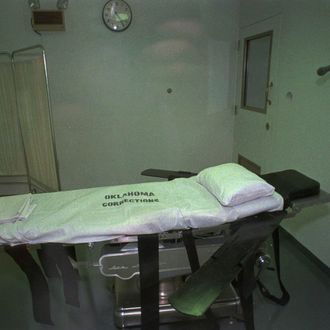 The sedative midazolam has been used in several botched lethal injections, and now executions in Oklahoma are on hold while the Supreme Court considers whether use of the drug constitutes "cruel and unusual punishment." Several states began using midazolam when other lethal-injection drugs became unavailable, but some say it does not properly sedate inmates before they're given drugs that stop their heart and respiration. (One expert testified that inmate Clayton Lockett may have felt "liquid fire" when he was executed following a dose of midazolam.) The stay issued by the Supreme Court delayed the execution of three Oklahoma inmates challenging the state's lethal-injection protocol. Charles Warner, a fourth inmate who was initially part of the legal challenge, was executed earlier this month.
After the justices agreed to take up the case last week, the state made the unusual move of requesting that the court delay the scheduled executions, as the governor can only put off a death sentence for 60 days. The Supreme Court is scheduled to hear the case in late April, and the court will issue its decision in June. The inmates' attorneys supported the request.
Oklahoma was set to execute Richard Glossip, who was found guilty of hiring a man to beat their boss to death, on Thursday. John Grant, who was convicted of murdering a kitchen worker in prison, and Benjamin Cole, who was convicted of killing his 9-month-old daughter, were scheduled for execution in February and March. The state is still allowed to conduct executions that don't involve midazolam, but it's unlikely that officials will find an alternative sedative.
Several states use midazolam as part of their lethal-injection cocktail, including Florida, which has an execution scheduled for next month.