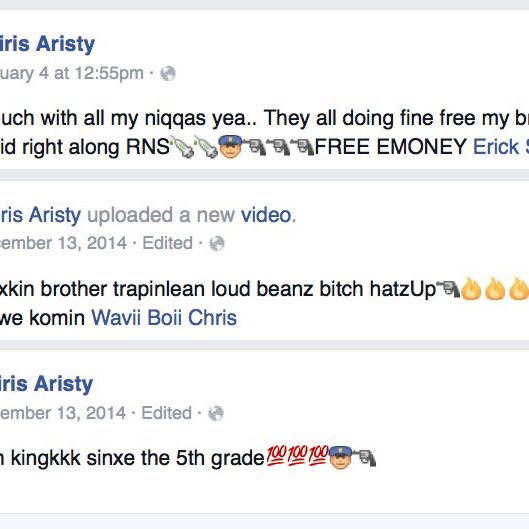 A Bushwick teen's social-media posts, including some with emoji policemen and revolvers, have gotten him locked up for making terrorist threats. The criminal complaint states that 17-year-old Osiris Aristy's posts "caused New York City police to fear for their safety."
Officials were evidently on Aristy's tail as he fired off a series of barely decipherable Facebook posts on the night of January 15, which included emojis of police officers with guns pointed at them. He put up a photo of himself with a gun and ammunition captioned "feel like katxhin a body right now" at 9:52 p.m. The complaint says that soon after, he posted "N***a run up on me, he gunna get blown down," along with threatening emoji. Screenshots of older Facebook posts show that Aristy didn't bother to limit the privacy settings on his outbursts.
Aristy boasts a lengthy rap sheet, including weapons and robbery charges. It seems like his most recent run-in with the law happened in October, when he pleaded guilty to first-degree robbery charges.
His lawyer, Fred Pratt, called the anti-NYPD posts "distasteful and uncomfortable," but added that the teen "never threatened to take action against police." He didn't comment on the weapon or 21 neatly packaged baggies of marijuana also found in Aristy's home during the arrest. The teen is being held on $150,000 bail and is due to appear in court next Friday.