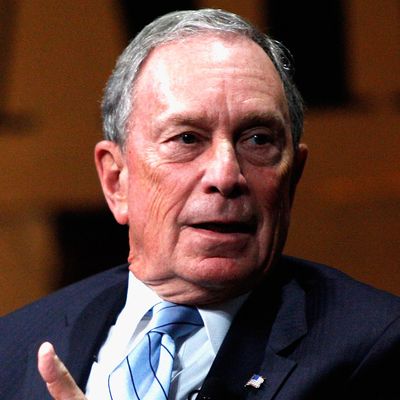 Photo: Kimberly White/Getty Images
For years now, it has been speculated in media circles that Mike Bloomberg could be a white knight and save the New York Times. Now it appears he may actually have tried to do it.
Near the end of Bloomberg's time as mayor, he told Times chairman and publisher Arthur Sulzberger Jr. that he was interested in buying the Times, according to a source with direct knowledge of the conversation. Sulzberger replied that the paper was not for sale.
Bloomberg's overture, previously unreported, might be one reason why talk of a Bloomberg-Times eventuality has flared up among insiders in the wake of the most recent round of Times' layoffs. Given the fact that both sides vehemently deny that there have been recent conversations (Sulzberger "can't remember the last time he spoke with Bloomberg," said a spokesperson), this may very well be wishful — or apprehensive — thinking being played out in the echo chamber of media gossip.
But it does seem that Bloomberg is in fact interested in the Times and that his interest has not waned. "Mike has muttered a lot about the Times to a lot of people," a Bloomberg adviser told me.
The strongest advocate for such a deal is said to be Bloomberg's longtime political adviser Kevin Sheekey. In pushing Bloomberg to buy the Times, Sheekey is reprising a role he played in 2008, when he encouraged Bloomberg to run for president. According to a particularly knowledgeable source, in the summer of 2013, Sheekey held a private meeting with a person close to Sulzberger and asked how a deal for the Times could get done. "Sheekey basically said, 'we want to buy the company,'" a person familiar with the conversation said. A Bloomberg source told me: "Kevin has long been a vocal enthusiast to Mike about this. Sulzberger needs to go somewhere for money. We know they have a real issue, and Mike is an obvious person he'd turn to."
In addition to Sheekey, Bloomberg has also discussed the Times with his financial adviser Steven Rattner, a longtime Sulzberger friend. Rattner, according to a source, has explained the Sulzberger family dynamics to people at Bloomberg LP. Rattner declined to comment.
If Bloomberg is indeed trying to buy the Times, it is a remarkable reversal from his public comments. In June 2012, I reported how Bloomberg brushed off the suggestion he should buy the paper. "Why would I want to buy the Times?" he said in March of that year. 
Perhaps this was just an attempt to derail speculation. Or perhaps he's become more interested in media again since returning to Bloomberg LP. He has been seeking to dramatically expand the financial data and news service's reach. Late last year, Bloomberg brought in Economist editor John Micklethwait to replace longtime Bloomberg News chief Matt Winkler. And Bloomberg News is currently staffed by many ex-Times employees, a fact that could help meld the newsrooms if a deal were to happen. 
Bloomberg clearly sees himself as having made the transition from mayor back to media mogul. According to one friend, he lunches almost weekly with Rupert Murdoch. "Before he came back to the company," this friend said, "there was talk he was going to be a combination of Bill Gates and Rupert Murdoch. Now he's only going to be Murdoch. He's not paying as much attention to the philanthropy. And to have media impact, he's gotta get something bigger. He can't just have Bloomberg."
Bloomberg would face a challenge in pursuing the paper. As my colleague Joe Hagan reported, the Sulzberger family controls the Times Company through a special class of stock that has protected their hold on the paper. There are currently four family members on the Times Company board. And unlike the Bancroft family, which splintered in the wake of Rupert Murdoch's $5 billion bid for Dow Jones, the Sulzbergers remain tightly knit. In May, the family plans to gather in New York for one of their annual bonding retreats. 
Still, the Times faces unrelenting pressures on its business. In October, the company reported a loss of $9 million compared to a profit of $12.9 million in the third quarter of 2013. The loss was driven, in part, by the cost of buyouts and layoffs, as well as investment in new products. Frustratingly for Sulzberger, new digital products like NYT Now and the short-lived Opinion app have failed to attract vast new paying audiences. While digital advertising revenue ticked up 16.5 percent, print advertising nosed down by 5.3 percent. 
Another wildcard: Mexican billionaire Carlos Slim. Last week, Slim exercised warrants to become the largest shareholder of the company with a 17 percent stake. Though Slim has publicly backed the Sulzbergers at every turn, he also told Reuters last July that his Times holdings are a "financial investment." A mega offer by Bloomberg would certainly provide Slim with a rich return (though given the dual-class share structure of the Times, he could do little more than encourage a sale if he decided he wanted one). The Times' market capitalization is currently $1.81 billion. With a net worth estimated at north of $30 billion, Bloomberg could easily afford to pay a significant premium over its current value.  
Though Sulzberger may not want to sell, neither did the Graham family when they unloaded the Washington Post to Jeff Bezos. And of all the potential Times suitors, the Sulzbergers would probably find Bloomberg the most appealing steward if holding on to the company becomes less and less tenable.
Update: On Saturday morning, Murdoch tweeted this: