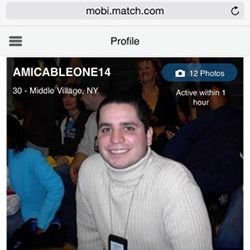 IMG_3102.jpg
Photo: Match.com
Now that he's been released from jail after his kidnapping-conspiracy conviction was overturned, Gilberto Valle — the former NYPD officer dubbed "Cannibal Cop" for allegedly planning to kidnap, kill, and eat women — is hungry for love on Match.com. Unfortunately for him, the online dating service told us that they've deleted Valle's alleged profile, even though frankly he can't be any worse than the other dudes you might find on there.
Going by the handle "AmicableOne34," Valle was searching for a "non-judgmental" woman ages 24 to 32 who is "a little kinky ;)." Some quotes from the profile, according to the Post:
"You appreciate the simple things and can make the best out of a situation that is less than ideal."

"You're non-judgmental. You can generally see the good in people and you are kind and generous . . . You appreciate and laugh at bad jokes."

"Occasionally I just need a day indoors by myself and that usually entails enjoying a glass of bourbon on the rocks."

"I have a few bucket list items: a cross-country drive along with other traveling, seeing Jerry Seinfeld do stand-up, going to a live Hell's Kitchen dinner service."
Also, he listed cooking as a favorite hobby!
The Post believed the profile was legitimate, and its evidence is pretty convincing. If it was a fake, someone had to be extremely familiar with the details of Valle's life, have access to personal photos, and pay to set up the Match account. Plus, Valle didn't exactly play it cool when confronted with a screenshot of his profile.
When shown a screenshot of the profile, he blurted, "I don't want to see it, thanks," and hurried inside his home.
Match.com, for its part, thought the profile was offensive enough to ban. "We received a number of complaints about this profile, alerting us to its existence, and have removed it from our site," a spokesperson told us.
This post has been updated throughout.