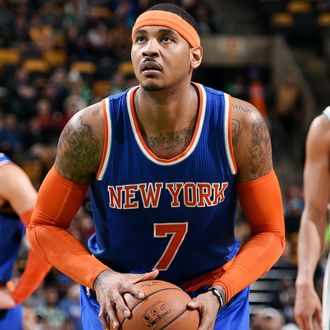 Carmelo Anthony.
Photo: Brian Babineau/Getty Images
How bad are the 5–32, salary-dumping Knicks right now? The New York Times had some fun at their expense today, running a short piece online asking readers to suggest other basketball teams its poor Knicks beat writer could cover for a while.
From the item:
So we feel it's only merciful to give our Knicks beat writer, Scott Cacciola, a break from such woeful basketball. He deserves to see the game played at a higher level. For the next month or so, we would like to point him to some good, quality basketball, wherever it might exist. Any suggestions?

Maybe there's another N.B.A. team that warrants his attention, or perhaps a high school or a college squad. For that matter, maybe you know of a strong coed team at your local Y that Scott should write about.
So far in the comments there, readers have suggested Cacciola go cover the Portland Trail Blazers, the Borough of Manhattan Community College men's team, and a squad of seventh-graders in the Westchester Jewish Basketball League.
In case you were wondering, the Times will still be covering the Knicks, no matter how bad they might be for the remainder of the season: