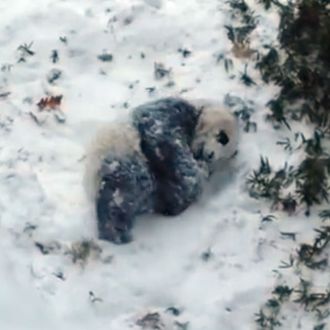 If January's debut week is any indication, 2015 is going to be just as garby as last year. There were devastating terrorist attacks, sub-zero temperatures, and the words "Henry Blodget" and "vibrator" in the same sentence. Here, we offer you a palate cleanser in the hopes that next week will be even mildly better than this one.
1. The unemployment rate is at its lowest since June 2008. The new jobs report revealed that the U.S. economy added 252,000 jobs in December, dropping unemployment from 5.8 percent to 5.6 percent.
2. Bao Bao the panda had her first snow day. The lions weren't the only animals at the National Zoo who enjoyed this week's winter weather. Bao Bao, the D.C. zoo's panda cub, also frolicked about in the snow.
3. There's a new (and very powerful) antibiotic in town. Scientists made a medical breakthrough this week with the discovery of Teixobactin, a highly potent antibiotic that could be especially effective in fighting a myriad of superbugs. It's already working in mice, but researchers need to further test it on animals before they can begin human trials.
4. The widows of the NYPD officers killed in December have received over a million dollars in donations. Tunnels to Towers, a nonprofit founded to honor a firefighter who was killed on 9/11, successfully raised enough money to pay off both widows' mortgages. "Nothing will ever bring my brother back," Sindy Ramos, Officer Rafael Ramos's sister, said. "But just to know that my sister-in-law and the boys can sleep just a little bit better amid this tragedy fills a little bit of that gap."
5. The "Photo Doggies for Anthony" event cheered up a teenage cancer patient. Facebook users rallied around 16-year-old Anthony Lyons this week, posting photos of their pets with the hopes of cheering him up as he endures chemotherapy. So far, over half a million dog photos have been posted to the Facebook event.
6. Getting a college degree may no longer cost an arm and a leg. This week President Obama teased a new plan to help make education more affordable. Under the plan, the first two years at community college will be paid for by the government as long as a student manages a GPA above 2.5, attends school at least half-time, and shows they're "making progress" toward a degree.
7. A turtle is mobile again thanks to a LEGO wheelchair. German veterinarian Carsten Plischke devised a clever way to get his tortoise patient Blade back on his feet after he suffered a debilitating bone disease. Dr. Plischke constructed a "skate" that he attached to Blade's shell so that he can move himself without having to drag around the weight of his shell.
8. And of course, this Beyoncé Vine went viral.