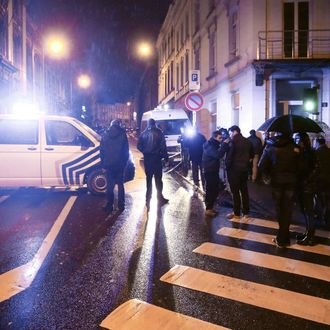 Photo: Bruny Fahy/AFP/Getty Images
The headquarters of a terror cell 80 miles southeast of Brussels was raided by Belgian counter-terrorism officials tonight, resulting in two casualties. One suspect has been injured.
Police were executing a search warrant on the cell when the suspects, who had been under surveillance since returning from Syria, began firing. No civilians or police were injured.
A Belgian senior terrorism official told CNN that the group that was raided "had been instructed by the Islamic State to carry out attacks in Belgium and Europe in retaliation for the U.S.-led airstrikes against the militants in Syria and Iraq." At a press conference, Belgium's federal prosecutor warned that the group had planned to carry out a "major attack" in Brussels.