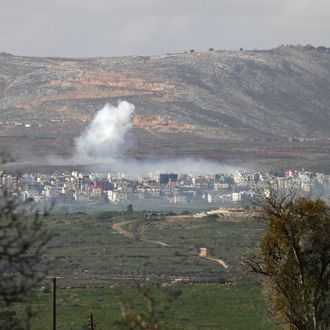 Photo: Jalaa Marey/Getty Images
A missile fired by Hezbollah killed two Israeli soldiers in the Golan Heights Wednesday, likely in retaliation for a recent Israeli strike on Syria that killed high-profile Lebanese and Iranian fighters supporting Bashar al-Assad. In response, Israel fired more than 20 shells at farmland and villages across the border, possibly killing a U.N. peacekeeper. The incident potentially opens yet another international conflict on Syria's borders.
Hezbollah claimed responsibility for the attack in the Shebaa Farms area, along the Lebanese border, saying that it was carried out by its Quneitra Martyrs Brigade. Israeli prime minister Benjamin Netanyahu, who was in a town along the Gaza border when the incident occurred, warned that Israel is "prepared to act powerfully on all fronts." The Israeli government denied reports that one of its soldiers had been kidnapped by Hezbollah, but two deaths may mean that an exchange of fire is not the end of this conflict. 
The Golan lies at the intersection of Israel, Jordan, Lebanon, and Syria and has been occupied by Israel since 1967. Recently, though, Israeli politicians have abandoned the idea of returning the region in return for peace with Syria, and it has increasingly become a matter of concern for Israel as Syria's civil war spills across the border. Hostilities between Israel and Hezbollah had been at a low ebb recently, in part because the Lebanese group backs the Assad regime against Sunni rebel forces like ISIS.