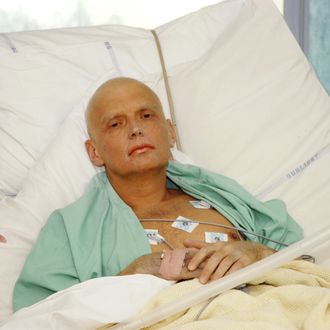 Photo: Natasja Weitsz/Getty Images
When the long-awaited inquiry into the painful 2006 death of Alexander Litvinenko began this week, a medical examiner described the Russian spy's autopsy as "the most dangerous post-mortem examination ever undertaken in the western world." To make the story even more engrossing: On his deathbed, Litvinenko accused Russian president Vladimir Putin of murdering him.
According to the British government, Litvinenko was meeting with former KGB members Dmitry Kovtun and Andrei Lugovoy on November 1, 2006, when he drank tea that was laced with polonium 210. (Though a former agent himself, he had by this point become a whistle-blower, moved to the U.K., and was getting paid by the MI6.) He took just a few sips but began vomiting hours later and eventually took ill. 
This is where the killers must have made a mistake: Litvinenko, a strong man, withstood the damage wrought by the polonium for nearly a month, giving his ailing body plenty of time to become a constant presence on television screens around the world and giving his doctors enough time to spot the hard-to-identify substance.
An investigation later found traces of polonium in his hair and in a teapot at the hotel where he met the two men. Yet despite this, a formal inquiry kept getting postponed — perhaps, many speculated, to maintain the already-fraught relations between the U.K. and Russia. That caution was thrown to the wind Tuesday, however, after months of escalating tensions with Russia over the conflict in Ukraine and other parts of the world made peacekeeping a secondary concern. A lawyer for Litvinenko's widow, Marina, called his death an "act of unspeakable barbarism" and "an act of nuclear terrorism" on the city. Litvinenko "had to be eliminated — not because he was an enemy of the Russian State itself or an enemy of the Russian people, but because he had become an enemy of the close-knit group of criminals who surround Vladimir Putin and keep his corrupt regime in power," the attorney, Ben Emmerson, said.
Two of the key suspects in the case, Kovtun and Lugovoy, remain sequestered in the safety of Russia's borders, where they have repeatedly denied involvement in the death and are unlikely to be extradited regardless of the inquiry's findings. But Robert Owen, the judge assigned to the inquiry, has promised to examine all the "matters of utmost gravity" with regard to this case — including whether the trail of the killers leads right up to the Kremlin's front door.