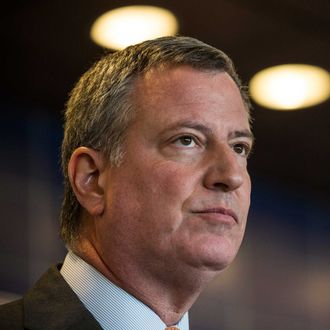 Photo: Andrew Burton/Getty Images
Mayor de Blasio just gave another press conference to discuss the Nor'easter preparing to cripple New York, and though his sign language interpreter again stole the show, he made several important announcements.
New York City public schools are closed Tuesday, January

 

27.
All roads will be closed to non-emergency vehicles starting at 11 p.m. Monday. For more information on what you need to know about blizzard transportation, check out our guide here.
The Regents exams are postponed.
Parks will be closed as of 6 p.m., so get your sledding in

 

now.
Subway service will be dramatically scaled back starting at 7

 

p.m.

LIRR

and Metro North will shut down at 11

 

p.m.
"Price gouging in the context of an emergency is illegal," de Blasio said. He urged people to call 311 if they felt they were the victims of fares raised unfairly owing to the storm. (Looking at you,

 

Uber!)
Call 311 immediately if you're having heating or hot water

 

issues.
Alternate-side parking is suspended Monday, Tuesday, and

 

Wednesday.
When asked whether closing roads at 11 p.m. was a little much, de Blasio retorted, "I don't think its draconian; I think it's necessary."