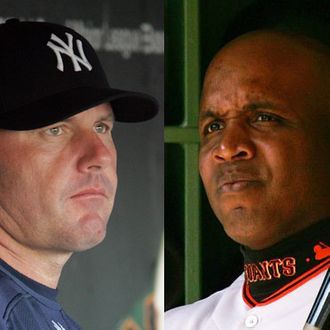 Roger Clemens and Barry Bonds.
Photo: Getty Images
The Baseball Hall of Fame's 2015 class was announced earlier this week, with Randy Johnson, Pedro Martinez, John Smoltz, and Craig Biggio all earning at least the 75 percent of votes necessary for induction. Many voters, meanwhile, continued to take a stand against players who used (or, in some cases, are suspected of using) performance-enhancing drugs. Barry Bonds and Roger Clemens, both among the best players of all time statistically but also both tainted by PED accusations, are often linked together with respect to their Hall chances. But some voters selected one and not the other: Clemens appeared on 206 out of the 549 ballots, while Bonds appeared on 202. Voters aren't required to make their ballots public, but today the BBWAA released the selections of some voters who've opted to do so, bringing the total number of public ballots to 235, according to Ryan Thibodeaux's handy tracker. Just two of those voters with public ballots selected Bonds or Clemens but not the other, and Daily Intelligencer reached out to both and asked them to explain that decision. Here's what they said.
Jerry Green, Detroit News
Voted for Roger Clemens but not Barry Bonds
"Clemens was found not guilty of lying to Congress. To my knowledge, Bonds was convicted of obstruction. Bonds confessed that he unknowingly used the cream and the clear —  whatever they are.
Thus, even though there remains a perception that Clemens got away with the lying charges, the charges remain unproven."
Barry Rozner, Suburban Chicago Daily Herald
Voted for Barry Bonds but not Roger Clemens
"I don't vote for PEDs guys based on Rule 5 of the ballot, which states that voting shall be based on, among other criteria, a player's 'sportsmanship, integrity and character.' For me, that takes the PEDs players out of the conversation.
I do, however, vote for Barry Bonds based on what he was before he started taking steroids, which was certainly the best player in the game and among the greatest ever.
Bonds was already a 400-400 guy before he got on the stuff. If his career ended after 14 years, his 1,455 runs scored would be good for 79th all-time, 445 home runs 40th, 460 stolen bases 50th, and 1,299 RBI would be 117th. He was MVP three times and won eight Gold Gloves the first 14 years of his career. Bonds's WAR of 103.4 through 1999 is good for 20th all-time among position players.
I wish I had a better idea of when Roger Clemens started because I'd like to vote for him, and obviously believe him to be one of the greatest to ever pitch.
I realize it sounds hypocritical to vote for Bonds, and I can live with that. It's not a perfect solution and my ballot is simply the best I can do under the circumstances, with the best information I can find. The easy thing to do would be to leave Bonds off my ballot and not have to answer that question, but in this case, the easy route is not the right one for me."