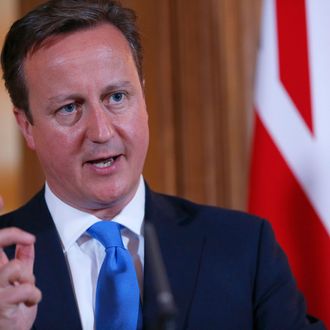 Photo: Andrew Winning/AFP/Getty Images
On Sunday, some guy decided that it would be fun to prank call the head of the GCHQ (the United Kingdom's NSA equivalent) and Prime Minister David Cameron, so that's what he did. According to several reports, the unnamed man simply rang the GCHQ, claimed to be a representative of Cameron's office, and obtained a private cell phone number for director Robert Hannigan, whom he then called. Hannigan quickly became suspicious of the caller and hung up, but the fun wasn't over. 
The prankster then called Cameron (it's not clear how he got his number) and managed to "briefly" speak to the prime minister by pretending to be Hannigan. The Guardian reports that "Cameron spoke to the imposter … but ended the call when he realised he was being tricked." A government spokesperson said that neither Hannigan nor Camerson discussed any "sensitive" subjects with the caller, and that "a notice has gone out to all departments to be on the alert for such calls." 
Meanwhile, the guy bragged about his activities to The Sun newspaper: "[I was] off my face on booze and cocaine," he said. "I've just made complete monkeys out of GCHQ. I've got the mobile number of the director. I'm definitely going to do it again. It was so easy." Sounds like it!