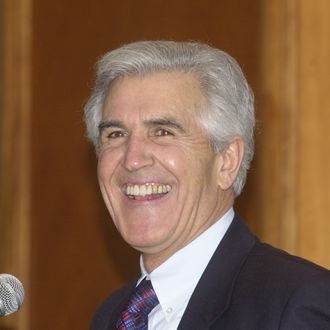 Photo: Robert Rosamilio/NY Daily News Archive via Getty Images
For years Sheldon Silver, speaker of the New York State Assembly, earned a lucrative income in addition to his government salary, and now he's been hit with federal fraud charges. Where have we heard that one before? Oh, right: the tale of Joe Bruno, the former Republican Senate majority leader who, along with Silver, was once "one of the so-called 'three men in a room' who decided what, if anything, got done in Albany," according to a 2008 New York profile. In January 2009, about six months after he retired from the state Senate, Bruno was indicted on eight counts of corruption. His alleged method of monetizing a government office was a bit different from Silver's, but his legal struggles — and triumphs — still provide a peek at what may be in store for Silver.
Bruno was accused of inappropriately mixing his private and political work by running a consulting business out of his government office. Prosecutors said he received millions of dollars from businessmen who wanted help from the Legislature, and firms that had him pressure labor unions to invest money with them — and then he concealed the payments in his ethics disclosure forms.
The former majority leader said that was just how things were done in Albany, and insisted he'd done nothing wrong. In December 2009, a jury convicted Bruno on two felony counts of mail fraud related to payments from entrepreneur Jared Abbruzzese, who went to him for help with various business ventures. Bruno was found not guilty on five counts of mail or wire fraud, and the jury failed to reach a verdict on the final count.
Though he was facing 20 years in prison, in May 2010 Bruno was sentenced to just two years in prison — and he was allowed to remain free while the Supreme Court considered the constitutionality of the law used to convict him. The justices found that the law that made it a crime "to deprive another of the intangible right of honest services" was too vague, and a federal appeals court vacated his conviction.
But his legal troubles still weren't over. The appeals court ruled Bruno could be retried on different charges, and in May 2012 he was indicted for taking bribes and kickbacks. Bruno argued that would constitute double jeopardy, but the court disagreed. Finally, after a two-week trial in May 2014, a second jury found Bruno not guilty of all charges.
On Christmas Eve last month, the 85-year-old Bruno got some more good news. In New York, state employees are entitled to have their legal fees reimbursed if they're acquitted of crimes related to their duties. Thus, the office of Attorney General Eric Schneiderman informed state Comptroller Thomas DiNapoli that it "had no choice" but to approve Bruno's request to be reimbursed for $2.4 million in legal fees — though most of that money came from a "long-dormant" campaign fund.
The letter says that vague laws on the use of campaign money create a tremendous "potential for abuse," and notes, "In hopes that this shortcoming will be addressed in the upcoming legislative session, I am forwarding a copy of this letter to Governor Andrew M. Cuomo, Senate Majority Leader Dean G. Skelos, and Assembly Speaker Sheldon Silver." Somehow, we doubt they're going to hop on that.