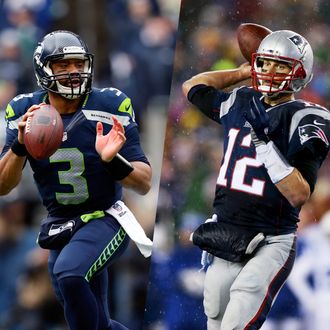 Russell Wilson and Tom Brady.
Photo: Christian Petersen/Getty Images; Elsa/Getty Images
Later today, Tom Brady and the Patriots will try to win their fourth Super Bowl under Bill Belichick, while the Seahawks are looking to become the first repeat winners since the Pats won it all in the 2003 and 2004 seasons. After two weeks of mostly silly controversies, there's finally an actual football game to play. Here, six things to watch for.
1. Can New England stop the read option?
Seattle led the NFL in team rushing this season (by some margin), with Marshawn Lynch leading the way with 13 touchdowns and more than 1,300 yards. They're especially fond of running the read option, in which quarterback Russell Wilson (himself an excellent rusher) decides whether to hold on to the ball or hand it off. The Seahawks ran the read option more than any team in the league this year and did it 17 times against Green Bay for 121 yards and two touchdowns. In response, New England might try to "stack the box" with eight defenders, meaning they'd be devoting an extra defender to stopping the rush. The Pats' run defense was decent this year — ninth overall — but they allowed the fewest runs of 20-plus yards. They may not be able to totally stop Seattle's running game, but containing it would go a long way.
2. Can Tom Brady and Rob Gronkowski take over?
On a similar note, the Seahawks are hoping to limit Rob Gronkowski as much as possible, even if they don't expect to shut him down completely. It's perhaps the most fun match-up between the two teams: Brady will no doubt look to connect with Gronk frequently, and Seattle will try to be as physical as they can with him without crossing the line.
3. Can the Seahawks' pressure Brady enough to throw him off?
Perhaps the best way to slow New England's passing game (to Gronkowski or anyone else) is to pressure Brady and prevent him from stepping up to throw. Via Sports Illustrated, the Patriots' passing game is now designed to have Brady get rid of the ball quickly, to avoid throwing under pressure. The Giants made things difficult for Brady in both of their Super Bowl wins over the Pats, and lineman Michael Bennett could play the role that Justin Tuck did for those New York teams, pressuring Brady and potentially disrupting him.
4. Will Richard Sherman's health be an issue?
The cornerback suffered a hyperextended elbow against the Packers in the NFC title game, and though he played through it, he received treatments for torn ligaments in the lead-up to the Super Bowl. Those treatments are now complete, and he was able to practice without limitation earlier this week. Having Sherman at, or at least close to, 100 percent is key to Seattle's "Legion of Boom" secondary: The first-team All Pro already has two interceptions in this postseason. (Also worth noting: Sherman's girlfriend is due to give birth to their son any day now, and he hasn't said whether he'd miss the game to be with her if she goes into labor on Sunday.)
5. Will we see any trick plays?
Both teams have found creative ways to score in these playoffs. As Yahoo's Shutdown Corner notes, the Pats scored on a touchdown pass thrown by a wide receiver in the divisional round and completed a touchdown pass to an offensive tackle in the AFC championship. As for the Seahawks, they pulled off a memorable trick play in their NFC title game win over Green Bay, when punter Jon Ryan completed a touchdown pass on a fake field goal.
6. Who will win the turnover battle?
New England and Seattle ranked second and fourth respectively in turnover differential this season, and over the past three seasons (including the postseason), they're tied for the NFL lead with a +51 turnover ratio. Seahawks coach Pete Carroll went so far as to say this week that creating turnovers was "the biggest single factor that determines winning or losing." Perhaps the teams will cancel each other out in this area, but the Seahawks did turn the ball over five times in the wild NFC title game, including four interceptions.