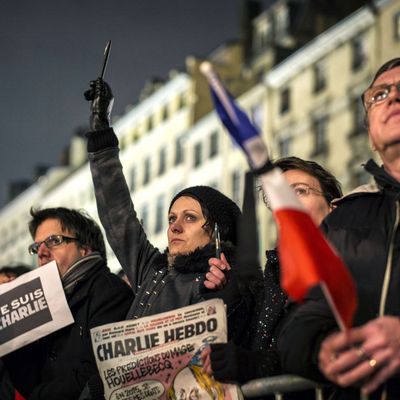 Photo: AFP PHOTO / JEFF PACHOUD
As police continue to hunt for those suspected of killing 12 people in a horrific terrorist attack at the offices of the French satirical magazine Charlie Hebdo, we've begun to learn more about their backgrounds, and possible motives for the attack. Brothers Said and Cherif Kouachi, the suspected gunmen, were known to law enforcement and have ties to a group that was busted a decade ago for recruiting French jihadists to fight in Iraq. A third suspect, Hamyd Mourad, turned himself in on Wednesday night. He's said to be the getaway driver, but people claiming to be his high school classmates say he was in school during the attack. Here's everything we know so far about the alleged terrorists.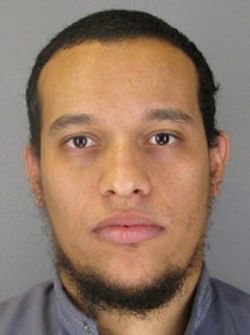 SAID KOUACHI
Like his younger brother, 34-year-old Said Kouachi was born in Paris's 10th Arrondissement to Algerian immigrants. They were orphaned at a young age and raised in a foster home in Rennes, in Western France. Libération, a French newspaper, reported that in 2005 both brothers were living in Paris with Farid Benyettou, a 26-year-old janitor-turned-preacher. Benyettou was the ringleader of a group that recruited French Muslims to fight against U.S. forces in Iraq, and according to a 2008 Associated Press report, he admitted to authorities, "I taught that suicide attacks are legitimate under Islam."
According to French media reports, the Kouachi brothers returned to France last summer after spending time in Syria. A police official told the AP that they're linked to a Yemeni terrorist network, and witness Cedric Le Bechec said he heard the attackers say, "You can tell the media that it's al Qaeda in Yemen."
France's BFMTV reported that an ID card found in the getaway vehicle belonged to Said. "It was their only mistake," said Dominique Rizet, the network's police and justice consultant.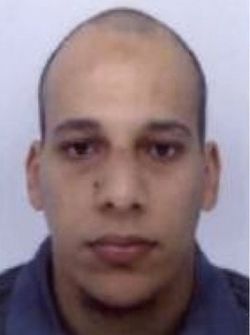 CHERIF KOUACHI
While both brothers were reportedly known to police, 32-year-old Cherif Kouachi's crimes were far more high-profile. Cherif, who had trained as a fitness instructor, was arrested in 2005 in connection with the group led by Benyettou. It was known as the "Filiere des Buttes Chaumont" cell, named for the park in Paris's 19th arrondissement where the young jihadists would go running as part of their training. According to a 2008 Le Monde article, in addition to listening to Benyettou's sermons, the recruits were taught how to handle AK-47 Kalashnikov rifles, the weapons used in Wednesday's attack.
Between 2003 and 2005, the cell sent about a dozen young French men to fight in camps linked to al Qaeda in Iraq. Cherif and others in the group were apprehended as they prepared to fly to Damascus, Syria, and eventually Iraq. "I really believed in the idea," Cherif is quoted as saying in the 2008 AP report. He said that the images of Iraqi inmates being tortured in the U.S. prison at Abu Ghraib made him want to join the fight.
Shortly after Cherif's arrest, his lawyer, Vincent Ollivier, told the Pittsburgh Tribune Review that his client was having second thoughts about fighting in Iraq and was relieved that he was arrested. The report continued:
Kouachi, 22, lived his entire life in France and was not particularly religious, Ollivier said. He drank, smoked pot, slept with his girlfriend and delivered pizzas for a living. His parents, Algerian immigrants, are dead.

"I think in Mr. Benyettou he found someone who could tell him what to do, like an older brother," Ollivier said.

Ollivier admitted that his client told other militants they should attack Jewish interests in France. But he said that was a front Kouachi put up to look brave.
In 2008 Cherif was tried with Benyettou and five other men. Bloomberg News reported that he told the court he was working in a supermarket and his main interest was rap music. Cherif was sentenced to three years, but did not go to prison because half of his sentence was suspended and he had already served 18 months in pre-trial detention.
Cherif was arrested again in 2010 along with 12 other men suspected of plotting to break Smaïn Aït Ali Belkacem out of prison. The jihadist is serving a life sentence for planning the bombing of a Paris metro station in 1995, which killed eight people. Cherif was detained for four months, then released when prosecutors dropped the case.
Shortly after Benyettou's group was arrested in 2005, French Interior Minister Dominique de Villepin mentioned the cell in a speech, warning that French jihadists would receive training in Iraq, then "come back to France, armed with their experience, to carry out attacks." In 2008, the New York Times reported that European officials were rethinking their analysis, and had come to believe that "their fears of young would-be fighters from Europe traveling to Iraq and returning more radicalized and better trained were overblown."
HAMYD MOURAD
Hamyd Mourad, 18, who authorities say drove the getaway car, turned himself in late Wednesday at a police station in Charleville-Mézières, near the Belgium border. He is said to be in his final year of high school, and reportedly told police he is innocent and has an alibi for the time of the attack.
People claiming to be Mourad's classmates have come to his defense on Twitter, saying he was at school on Wednesday morning and using the hashtag #MouradHamydInnocent. Roughly translated, the message below says "Mourad Hamyd wrongly accused, he was in class at the time of the facts, his classmates can attest !!"
And this tweet reads, "What is this madness, the Mourad Hamyd was with me this morning."
It's possible that the entire hashtag is a hoax, but it wouldn't be the first time a suspect was misidentified in the frantic early reports following a major tragedy.