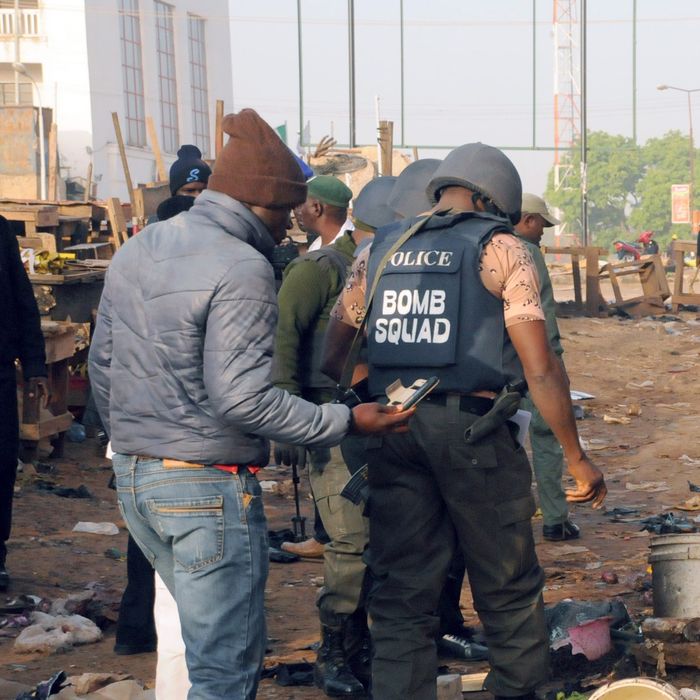 The site of another Boko Haram attack in Jos, Nigeria.
On January 3, the terrorist group Boko Haram began a days-long massacre in the Nigerian town of Baga, located near the country's border with Chad. The insurgents reportedly attacked residents with rifles and rocket-propelled grenades, burning most buildings and seizing a military outpost. Amnesty International called the incident the worst in history of Boko Haram, which, along with the infamous kidnapping of hundreds of schoolgirls, was responsible for at least 10,000 deaths last year. With reports saying that as many as 2,000 villagers were killed, observers demanded to know why news organizations — not to mention the international community — seemed unwilling to give Nigeria even a fraction of the attention devoted to the 17 people murdered by Muslim extremists in France during the same week. 
The answer might seem obvious: The mostly white, Western media and its audience are simply less interested in a massive atrocity in rural West Africa than they are in a smaller-scale attack on a Parisian newspaper and a suburban grocery store. That's undoubtedly part of the explanation, but there are a few other issues standing in the way of the Baga story, including outsiders' general inability to access the village. While it's easy to get to Paris — which is already home to plenty of reporters, anyway — Borno State, where Baga is located, is now almost entirely controlled by Boko Haram.
The insurgents have destroyed much of the area's telecommunications infrastructure, making it almost impossible to quickly transmit the photos, videos, and first-person accounts that news-watchers have grown accustomed to. "In Nigeria, you still have to contend with actually trying to ascertain what exactly went on," said professor and African development expert Muna Ndulo. "To some extent, that does affect the way people look at things."
When reporting on the Baga killings, journalists had to rely on sometimes unreliable information from terrorized survivors and local officials, which is why we still don't really know how many casualties there were (estimates range from Amnesty International's figure of 2,000 to "hundreds" to, as the New York Times cautiously reported, "dozens"). Meanwhile, the Nigerian government isn't exactly eager to facilitate the spread of news from Baga. President Goodluck Jonathan, who is up for reelection in February, has yet to publicly mention the massacre, though he did send a condolence message to France in the wake of the Charlie Hebdo shootings.
These problems don't just affect the work of foreign journalists. On January 9, MIT's Ethan Zuckerman posted a chart comparing Nigerian media's use of the words "Baga" and "Charlie Hebdo" in the days after the initial attack in France. "Baga peaks two days after the military base fell," he noted, "and coverage of the Paris massacre has been stronger the past three days than coverage of the larger domestic tragedy." Much of the coverage of Baga in Nigeria's newspapers was strikingly similar to that of their counterparts abroad, in that it mostly consisted of refugee accounts and the reprinting of outraged statements from international organizations, with little new information about what occurred. 
The most recent local stories on Baga focused on a statement from the Nigerian military, which has been widely criticized for its corruption and lackluster response to Boko Haram. Nigeria's Guardian News and Punch report that Major General Chris Olukolade held a press conference to refute Amnesty International's 2,000-person casualty estimate. 
"The figure given by sources who claim to be eye witnesses must be an extremely exaggerated estimate. Unfortunately, this figure is now being bandied about in a section of the media as if it has been authenticated. It cannot be true," said Olukolade. He seemed to blame the supposed confusion on the fact that most of Baga's residents had fled, "leaving the population in the town almost seriously depleted." 
"It is pertinent to once again urge the media to be circumspect in adopting casualty figures, especially the ones given to them by the so-called eye witnesses, who in most cases, are influenced by their own perspectives," continued Olukolade who, according to Guardian News, also "cautioned the media [against] using sensational headlines that attract unnecessary international attention." Unfortunately for the people of Nigeria, he probably doesn't need to worry too much about that.