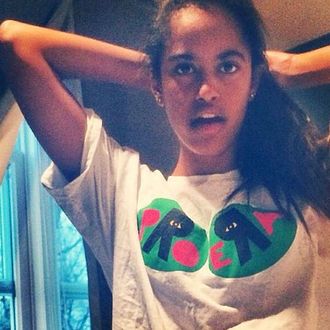 Photo: maskedgorilla/Instagram
The White House is reportedly investigating how a photo purporting to depict Malia Obama wearing a Pro Era T-shirt made its way online. Ugh, daaaaad.
The photo first hit the web Monday when the Brooklyn rap collective Pro Era tweeted it, and it was quickly picked up by news blogs such as this fine publication. Though it hasn't actually been confirmed that the photo is indeed of the First Daughter, Fox News reports that the White House is probing just how Pro Era got ahold of the photo. A representative for Joey Bada$$, one of the group's members, told Gawker on Monday that they received it through a mutual friend of Malia and a Pro Era member.
Psst … have you guys tried checking Malia's sent texts?