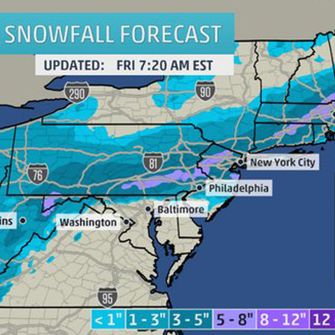 If you were envisioning a social Saturday that kicked off with bundling up in your cutest winterwear to head to brunch, think again: New York is bracing for a winter storm that could dump up to six inches of snow and freezing rain on your beautiful weekend plans.
Winter Storm Iola will kick off with snow showers starting around 11 p.m. tonight and continue all day Saturday until around dinnertime. The storm will travel up the I-95 corridor, dumping up to five inches of snow on New York, Hartford, Boston, and Portland. 
The National Weather Service has issued a winter weather advisory in effect from tonight at midnight until Saturday at 6 p.m., warning of hazardous travel conditions, low visibility, and a totally disgusting mix of snow, sleet, and freezing rain.
This all sounds horrible, but we've been pretty lucky this year in terms of avoiding snow — especially compared to 2014. Central Park has only received 3.2 inches of snow since October, 6.5 inches less than the average. In 2014, we'd received 26 inches of snow by this time, so maybe we should just let the weather gods have this one.