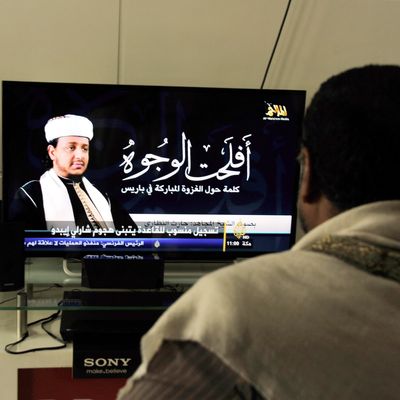 Photo: Yahya Arhab/Corbis
Al Qaeda in the Arabian Peninsula officially said it is behind the Charlie Hebdo attacks, a week after the bloody magazine shooting took place. It is the same Yemen-based group with which one of the Kouachi brothers trained, and to whom they repeatedly pledged allegiance during the attack.
"When the heroes were assigned, they accepted. They promised and fulfilled," leader Nasr Ibn Ali al-Ansi said in a video, adding that the attack in retribution for images of Muhammad had been planned for years. "It is France that has shared all of America's crimes."
The initial plan, he claimed, had been hatched by Anwar al-Awlaki, a New Mexico–born cleric who preached throughout the U.S. before becoming a high-ranking Al Qaeda leader. (He was killed by a U.S. drone strike in Yemen in 2011.) One of Awlaki's most ambitious projects was Inspire magazine, an English-language Al Qaeda publication meant to appeal to young Americans. It was Inspire that listed Charlie Hebdo cartoonist Stéphane Charbonnier as one of its 11 most-wanted in 2013.
The militant group — and others around the world — had previously praised the attack, but this is the first time it has taken ownership of the operation. Said Kouachi is known to have traveled to Yemen in 2011 to train with the terrorist group.
Notably, AQAP didn't claim responsibility for a second hostage situation at Paris's Hyper Cacher market Friday, even though many reports said that Amedy Coulibaly, the hostage-taker, was demanding safe passage for the Kouachi brothers. In a video revealed after he was killed by French authorities, Coulibaly (like many of a younger generation of extremists) pledges allegiance to the terrorist group ISIS. He also claims to have given the Kouachi brothers money for their attack.