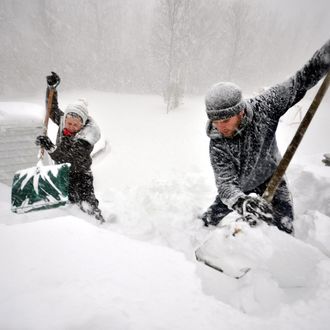 Photo: John Normile/Getty Images
The East Coast is currently bracing for what could be one of the worst snowstorms in the region's history, with up to 36 inches of snow expected to fall on cities like Boston and Portland, and 18-24 inches predicted for the New York metro area. Wind gusts could reach 60 mph, threatening to knock out power and cause low visibility, making travel impossible. So grab your favorite blanket and a mug of hot chocolate: Here's what you need to know to survive the 2015 snowpocalypse.
Timing
Snow started falling across the mid-Atlantic region Monday morning, coating Washington, D.C., Philadelphia, and New York in several inches by Monday evening. The storm is predicted to intensify overnight, with wind gusts reaching up to 75 mph in places like Montauk and 40 to 50 mph in New York and Boston. Some regions may see up to three inches of snow per hour and even see some elusive thundersnow. The strongest winds and heaviest snowfall are expected between midnight Monday and Tuesday afternoon.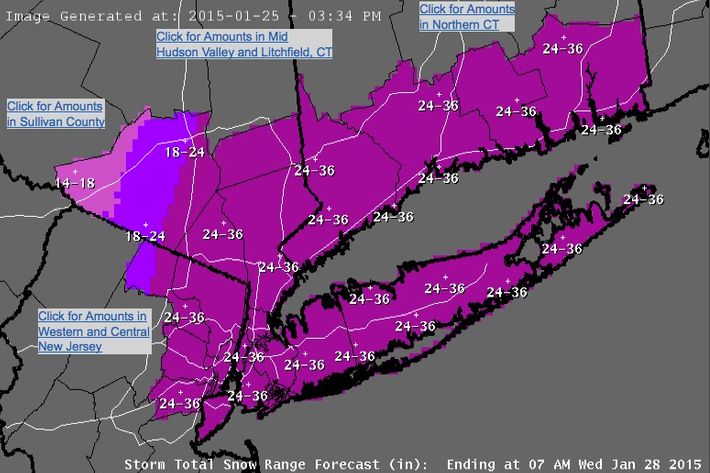 Impact
The severity of the storm's impact will vary based on where you live, but in New York, the National Weather Service is predicting "life-threatening conditions and extremely dangerous travel due to heavy snowfall" and winds strong enough to down power lines and tree limbs. Residents on the coast, in places like Long Island and Boston, also have coastal flooding to worry about: Early morning high tide on Tuesday could result in flooding that might cause structural damage and severe beach erosion.
Traveling
Read our travel guide for information about public transit, travel bans and road closures. 
Power Outages
While much of New York's power grid is buried underground instead of out in the open where it could be toppled by gusty winds, some of the outer boroughs are served by above-ground power lines, making power outages much more possible. In Boston, power outages are likely, so make sure you stock up on batteries, flashlights, candles, and non-perishable food items.
What to Watch to Stave Off Cabin Fever
You're probably going to be trapped inside for an extended amount of time, and in case the power goes out, you'll want to download a bunch of movies and TV shows that you can watch until your laptop battery dies. And keep that Kindle charged!
In case you're snowed in with power, Vulture has a roundup of everything that's new on Netflix in January, as well as the best movies the streaming service offers. Hulu has a collection of past Sundance award winners if you're feeling indie, and there's always an episode of Law & Order: SVU on sometime, somewhere.
How to Find a Blizzard Bae
Craigslist is already overflowing with people in search of someone to snuggle with during this winter storm, so snagging a "snow-day makeout buddy" should be as easy as browsing the personals sections. If that fails, there's always Tinder to keep you warm.
Best Places to Sled
Once the blizzard comes to an end, we should hopefully have a whole bunch of powdery white snow, which can only mean one thing: SLEDDING. New York City parks offer a bunch of hills that are perfect for sledding. WNYC put together this map of the best sledding spots in New York.
Godspeed, everyone!