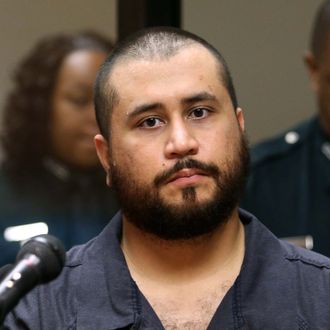 Photo: Joe Burbank-Pool/Getty Images
Over the weekend, George Zimmerman was charged with aggravated assault for allegedly throwing a wine bottle at his girlfriend, which means he's now been accused of attacking three women since he avoided punishment for killing Trayvon Martin. And, according to a police report released on Monday, the woman currently in question has since established that Zimmerman isn't her boyfriend anymore: He's her "psycho" ex.
The Associated Press reports that the Florida police pulled the woman over after they noticed her driving away from Zimmerman's house amid the sounds of shattering glass:
She explained that Zimmerman became angry after she told him she didn't want to take the relationship further, and they also argued over a painting she had that he wanted returned. Zimmerman made threats and threw the wine bottle, which didn't hit her, she said.

Detectives described her as "extremely emotional, crying, mad and upset" and said she became reluctant to cooperate when she realized that officers might be conducting an investigation. She called her former boyfriend "that psycho, George Zimmerman" and said several times that she should have known better than to get involved with him.

The ex-girlfriend, whose name is redacted, told investigators that she had had an "intimate relationship" with Zimmerman since the end of last year.

"She indicated that this began at a time when she was emotionally vulnerable," the report said.
Zimmerman, meanwhile, reportedly denies that he threw anything. Given the victim's "reluctance" to speak with the officers about Zimmerman, this incident seems to be headed in the direction of his other domestic violence cases, which were both dropped after his ex-wife and another former girlfriend declined to help investigators. Some people have all the luck — or something.