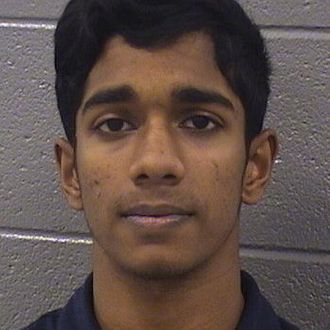 Photo: Cook County Sherriff Office
A University of Illinois freshman is being held on $500,000 bail after he allegedly attempted to act out scenes from Fifty Shades of Grey with a classmate without her consent, reports the Chicago Tribune. Nineteen-year-old Mohammad Hossain, a student leader and triathlon athlete, is being charged with aggravated criminal sexual assault.
According to reports, Hossain and the unnamed woman, with whom he'd been intimate before, went back to his dorm room on Saturday evening and started to hook up. The woman agreed to strip down to her bra and underwear before Hossain allegedly tied her arms and legs to the bed with a belt, gagged her with a tie, and began hitting her with the belt. He then reportedly covered her eyes with a cap and continued to hit and punch her before sexually assaulting her "as she continued to plead for him to stop."
When Hossain's roommate came home shortly after the assault, he attempted to hold the door to keep him out, but in the ensuing fracas, the woman was able to escape and call the police.
Hossain allegedly admitted to police that he had "done something wrong," but also said that he and the woman were reenacting scenes from Fifty Shades of Grey. Good luck getting a jury to believe that one.