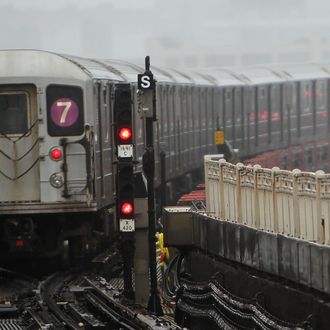 Photo: Spencer Platt/2010 Getty Images
Yes, your slushy, freezing commute was bad, but some people had it worse. A Manhattan-bound 7 train stalled near Queensboro Plaza at around 9:30 a.m. on Monday, trapping four trains behind it. While some reports have blamed icy tracks and a frozen third rail, MTA spokesman Kevin Ortiz said that the agency still isn't yet sure what caused the breakdown. But at least one thing is certain: trying to ride the 7 today really sucked.
The 7 train that set off the delay lost power, leaving its riders to freeze as they waited for two hours to be towed to safety. The other trains got to keep their electricity, but everyone was still stranded onboard until they were able to get to a station by driving in reverse to the 61st Street-Woodside stop. Here, experience the misery and desperation via social media:
Meanwhile, those "lucky" enough to arrive at a 7 platform after disaster struck found themselves without a subway to take. As of this afternoon, all 7 service remains suspended, and strap-hangers have been instructed to use shuttle buses and the LIRR instead. Of course, they can also just go home, put a blanket over their heads, and not leave until, say, Friday evening.