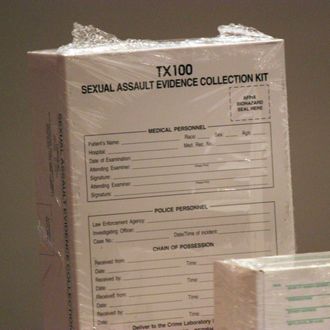 Photo: Richard Michael Knittle Sr./Demotix/Corbis
A year after the Houston City Council approved a $4.4 million plan to test its backlog of 6,663 rape kits, the results are in. DNA from the kits turned up 850 hits in the FBI's national database. In this case, a "hit" means the suspect's DNA was already in the database in connection to a previous crime.
Based on evidence from the kits, 29 cases have been filed, and six people have been convicted. But Houston District Attorney Devon Anderson said some suspects committed more rapes while their DNA went untested. "We are eagerly looking forward to prosecuting those repeat rapists," he told the Houston Chronicle.
Last February, Houston voted to expedite rape-kit testing by outsourcing the job to specialty labs in Utah and Virginia. This allowed the city to negotiate bulk pricing at roughly $400 per kit. Testing normally costs between $500 and $1,000 per kit, which can be a major deterrent for cities with enormous backlogs.
The Houston Police Department is working through matches to see if more charges can be filed.