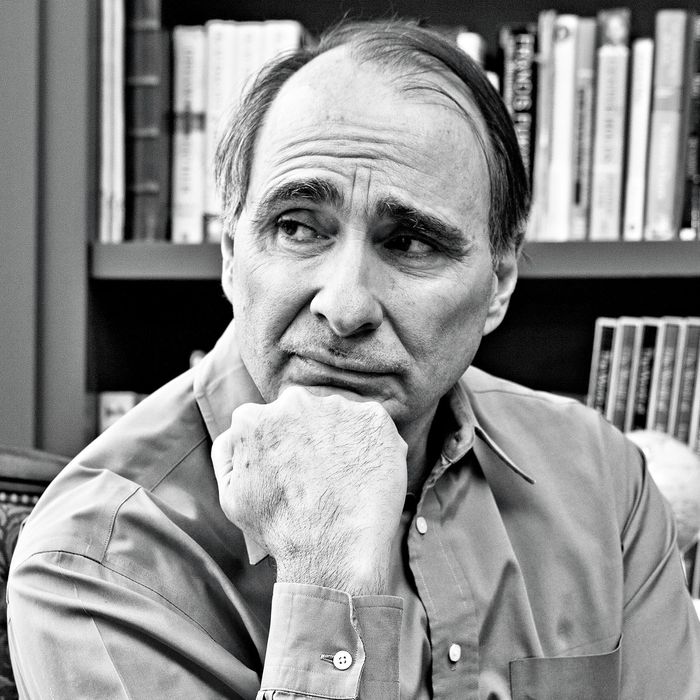 David Axelrod
Photo: Paul D'Amato
David Axelrod's new memoir, out this week, was supposed to avoid the sort of backstage gossip that former administration officials usually include in order to juice sales. "I didn't want to write a book that would be measured by the number of revelations in Politico," Axelrod told me, when I talked to him about the book last month. That, of course, will not stop it from being picked over by political junkies. With apologies to Axelrod, here are some of the dishier highlights from his 500-page tome:
Obama lied about his support FOR same-sex marriage before announcing his support for it in 2012. "Yet if Obama's views were 'evolving' publicly, they were fully evolved behind closed doors," Axelrod writes. "The president was champing at the bit to announce his support for the right of gay and lesbian couples to wed — and having watched him struggle with this issue for years, I was ready, too."
Obama was angry after Mitt Romney's concession call in 2012. Axelrod says that Obama "was unsmiling during the call, and slightly irritated when it was over." He says Romney told the president that he did "a great job of getting out the vote in places like Cleveland and Milwaukee." "In other words, black people," Axelrod recalls the president saying. "That's what he thinks this was all about." (Garrett Jackson, Romney's personal aide, denies that this happened.)
Axelrod and then-chief of staff Rahm Emanuel fought over White House political strategy. Axelrod remembers Rahm screaming,"I'm goddamned sick of hearing about the fucking campaign … The campaign is over. We're trying to solve some problems here!"
Obama chewed out Maureen Dowd on the campaign plane during the 2008 campaign. "No one got under Barack's skin more than Maureen … He was patronizing and disrespectful … After that awkward encounter, she seemed to take particular delight in psychoanalyzing Barack and belittling him in print, which only deepened his contempt," he wrote.
Obama was resigned to the possibility of losing the 2012 election. "I'm realistic about this. We have an uphill fight," Axelrod quotes Obama saying, during a dark period in 2011. "Michelle and I have talked about it — about where we would live if we lose. The girls are settled here now, so we really need to think about that."
Axelrod had to convince Obama of the "Yes, we can" tagline. When Axelrod was making Obama's ads for his Senate race, he worried the line was too corny: "Still not convinced, Barack turned to Michelle, who had a spare hour and had come to watch him tape his first ad at the home of a neighbor. 'Meesh, what do you think?' Michelle, who was sitting on a staircase, chin in hand, slowly shook her head. 'Not corny,' she said. That was enough."
Like everyone, Axelrod clashed with Elizabeth Edwards. Axelrod worked on John Edwards's 2004 presidential campaign as a media strategist. "John was a hick in a plaid shirt when I met him," Axelrod quotes Edwards as saying back then. "He's come a long way." And: "If her attitude towards John was right out of My Fair Lady, her approach to the campaign bore a greater resemblance to The Manchurian Candidate," Axelrod writes. He later describes being forced out of Edwards's inner circle as feeling like "I'd been punched in the gut."
Axelrod says John Edwards offered to stay in the 2008 South Carolina primary and splinter votes away from Hillary if Obama agreed to make him vice-president. Axelrod quotes the president saying: "He wants me to commit the vice presidency to him to stay in the race? Forget about it. Just tell them that I think highly of John, but that he'll have to make his own decision."
Steve Jobs called Axelrod to yell at him about the 2008 campaign, saying, "what your industry does, if you call it an industry, is bullshit … you guys don't know anything about communication."