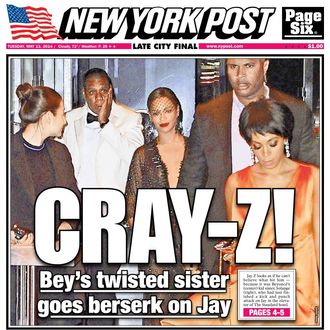 Jay Z has 99 problems, one of which is the New York Post's insistence on making the same joke about Shawn Carter's numerous anxieties over and over again.
Here are the many offenses, listed in chronological order. Lovers of the English language with weak immune systems may want to refrain from reading the post in its entirety.
1. November 2006: "Rap isn't exclusively a young man's game, but between Jay Z's namedropping of Hollywood types, his fixation on his own wealth and the milquetoast boasts, the man seems old and wistful for the days when he had 99 problems."
2. January 2007: "NOW HE HAS 100 PROBLEMS"
3. October 2009: "'Dolly' will be available starting Oct. 27 and will consists of her best 99 songs, housed on four CDs. That's right Jay-Z, there is now one place to solve all of your 99-problems and furthermore, this bitch ain't one."
4. February 2010: "Gov. Paterson has 99 problems — and Jay-Z might be one of them."
5. May 2010: "Jay-Z's 99 problems"
6. December 2011: "Now Jay-Z has only 98 problems."
7. January 2012: "Forget 99 problems — a state probe into how Lenox Hill Hospital handled the Beyoncé-Jay-Z baby birth lasted about 99 seconds."
8. May 2012: "The first of the 99 problems with the 'Empire' app is that you never get to see any of these things happen. Click on a building or a street corner and — zing! — you just signed a deal or slung some rock. Want more hot street action? Click again!"
9. October 2012: "It looks like the Barclays Center thinks Jay-Z fans are more likely to cause 99 problems than the upper-crust Barbra Streisand set."
10. April 2013: "Jay-Z's got 99 problems — and he rapped about every one of them yesterday in a rambling, mysterious radio rant that blasted an unidentified 'dweeb' who failed to show him enough respect." 
11. July 2013: "Jay-Z does not consider an NFLPA investigation one of his 99 problems."
12. November 2013: "A gift to Yankee free agent Robinson Cano has left Jay Z facing a lot more than '99 Problems' with the Major League Baseball Players Association."
13. December 2013: "Jay Z may have 99 problems, but selling his Barneys holiday collection ain't one."
14. March 2014: "It's '99 Problems' and counting for Jay-Z and his record label."
15. July 2014: "Beyoncé and Jay Z have more than 99 problems and only 'divine intervention' can save the troubled marriage, a source close to the powerful couple has told The Post."
16. August 2014: "Jay Z and Beyoncé may just have 99 problems after all."
17. November 2014: "Beyoncé's got '99 Problems,' but causing controversy ain't one."
18. November 2014: "99 Problems, and He's One"
19. February 2015: "Looks like Hova can add another problem to his list of 99."
The New York Daily News is also responsible in this crime against words, having made similar jokes at least 11 times.
20. March 2011: "If he has 99 problems, an NBA probe is far down the list."
21. September 2012: "Jay-Z has 99 problems — and Russell Simmons is one."
22. November 2012: "Jay-Z's 99 problems apparently don't include the Knicks. At least not anymore."
23. March 2013: "With a love for the finest, including accessories made with exotic animal skins, Beyoncé and Jay-Z have 99 problems — and PETA is one."
24. April 2013: "Jay-Z's 99 problems won't include the Nets for much longer."
25. October 2013: "Jay Z gets problem #100 as anger grows over his clothing deal with Barneys following racial profiling"
26. October 2013: "He's got 99 problems and Barneys is a big one."
27. October 2013: "Jay Z's got 99 problems and his deal with Barneys may be the biggest one."
28. March 2014: Jay Z sang about '99 Problems' — and this suit could make it an even 100."
29. May 2014: "Make that 100 problems."
30. November 2014: "Beyoncé doesn't have 99 problems — but she does have a major issue when it comes to Photoshopping accusations."
The New York Times made a "99 Problems" joke and didn't even bother trying to redeem it by using a prepositional phrase: "Citigroup's Vikram S. Pandit has had a lot more than 99 problems to worry about over the last few years. But on Wednesday night, he had the opportunity to ask for advice from none other than Jay-Z." (Or, "For Meeting Moguls, A Chance to Ponder Nearly 100 Mishaps.")
The "99 Problems" references are so ingrained in American culture that the phrase can be divorced from Jay Z entirely. Mitt Romney, Pope Francis, Obamacare, Hamid Karzai, footballers, Oz: The Great and Powerful, Iggy Azalea, and the MTA have all been diagnosed with 99 problems. However, the strange epidemic of "99 problems" has not been worrisome enough to prompt medical inquiry. 
Tune in next week to hear why you should never explain what you are talking about when you talk about something, and why no one should ever again have a "terrible, horrible, no good, very bad day."