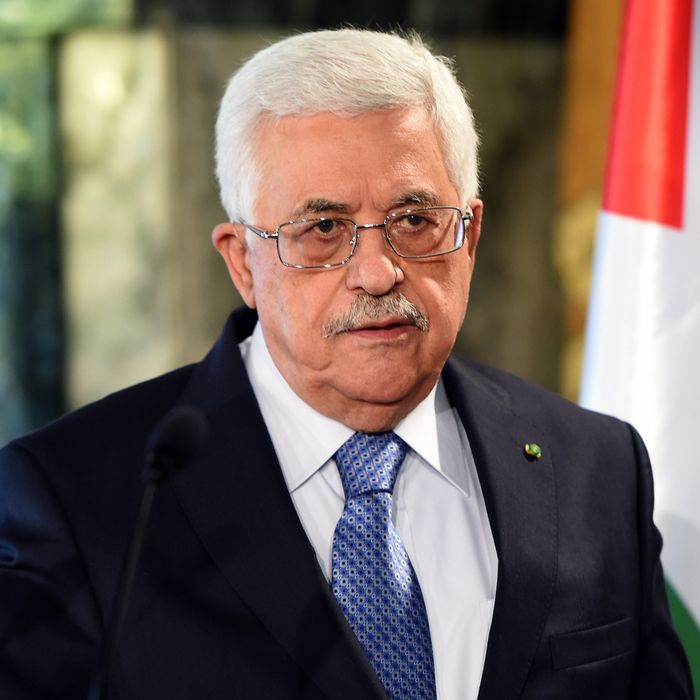 Photo: Fethi Belaid/AFP/Getty Images
Take note, Palestinian cartoonists: Just because your leader marches with international bigwigs to support freedom of speech in Europe doesn't mean you'll have the same liberties at home. Now that he's back from Paris, Palestinian president Mahmoud Abbas has reportedly ordered an investigation into a local newspaper for publishing a cartoon depicting the prophet Muhammad.
A Palestinian news agency quoted Abbas talking about "the need to take deterrent action against those responsible for this terrible mistake, out of respect for sacred religious symbols and foremost among them the prophets."
The offending cartoon was published in Al-Hayat al-Jadida, a West Bank paper put out by the Palestinian Authority. It features the prophet standing atop the Earth with a heart-shaped satchel, out of which he is sprinkling seeds. In the upper-right-hand corner, a caption identifies that the cartoon is talking about the prophet.
Many Muslims, though, believe depicting the prophet is forbidden, and the cartoonist responsible for the image —  Mohammed Sabanneh — was quick to say that he didn't mean for the man in the picture to be the prophet himself. Instead, Sabanneh wrote on Facebook that he is "a symbol of humanity enlightened by what the Prophet Muhammad brought."