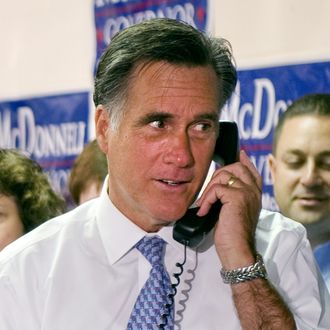 Mitt Romney at a Virginia phone bank in 2011.
Photo: JIM WATSON/2011 AFP
Mitt Romney's former personal aide is calling Obama strategist David Axelrod a "liar" for claiming in his forthcoming memoir that Mitt Romney "irritated" President Obama when he called to concede in 2012 by congratulating him for getting out the vote in Cleveland and Milwaukee. "In other words, black people. That's what he thinks this was all about," Obama reportedly said. "I hope that it's David Axelrod that concocted this crazy line and not the president," Garrett Jackson, who was standing next to Romney during the call, told CBS News. He added that he knows "for a fact" that the election data Romney saw wasn't that specific. Supposedly Romney only made one vaguely passive-aggressive remark: "There are a lot of tough issues facing the country … and I hope you tackle those tough issues." Where's the NSA wiretap when you need it?