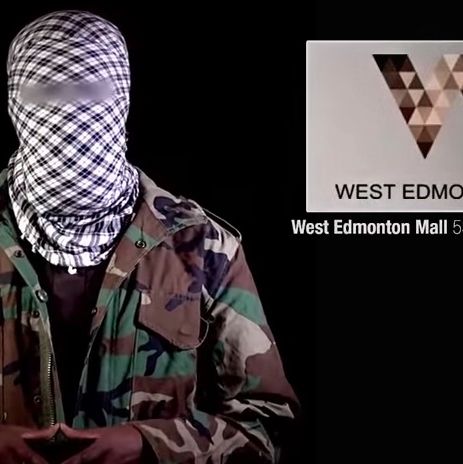 A still from Al Shabaab's new video.
On Saturday, the Somalia-based terrorist group Al Shabaab released a video calling for attacks on Bloomington, Minnesota's Mall of America and other shopping centers, including Canada's West Edmonton Mall and London's Oxford Street. (Al Shabaab was responsible for the deadly 2013 attack on Nairobi's Westgate shopping center.) In an interview with CNN, Homeland Security secretary Jeh Johnson indicated that the threat was being taken seriously.
"If anyone is planning to go to the Mall of America today, they've got to be particularly careful," said Johnson."There will be enhanced security there, but public vigilance, public awareness, and public caution in situations like this is particularly important, and it's the environment we're in, frankly." The Mall of America and the West Edmonton Mall released statements saying that they had stepped up security.
Meanwhile, Reuters reports:
One U.S. intelligence official said security officials indeed are worried about the risk of an attack on U.S. soil by a solitary militant, but al Shabaab as a group has not appeared to gain much traction with most Somalis in the West, including in Minneapolis.

"In balance, I don't think this video adds much on top of the ubiquitous 'lone offender' threat," said the official, who spoke on condition of anonymity.
Either way, the DHS released a clarifying statement, saying, "Sec. Johnson didn't say that they should not go to the mall, he told shoppers to be extra vigilant and that security was increased."