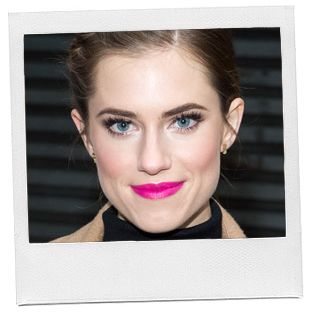 Photo: Michael Stewart/Getty Images
Name: Allison Williams
Age: 26
Neighborhood: Chelsea
Occupation: Actress. Next Wednesday, February 18, you can catch her in conversation with Seth Meyers at the 92nd Street Y, and on Friday, March 27, you can see her sing a selection of her favorite songs in her New York solo concert debut,  as part of Lincoln Center's American Songbook series.
Who's your favorite New Yorker, living or dead, real or fictional?
I think they've earned New York citizenship by now, so it's got to be the animals and dinosaurs in the Museum of Natural History. When I was little, those were my friends, and we went to the museum as often as my parents could take me on weekends from Connecticut.
What's the best meal you've eaten in New York?
Every meal I eat at ABC Kitchen. I also love Da Umberto, though …
In one sentence, what do you actually do all day in your job?
After rehearsing, hair and makeup, getting dressed, and waiting for setups, I have the privilege of pretending I'm somebody else (for about ten minutes at a time), in clothes that aren't mine, saying words I didn't think of, and saying them in a way that I wouldn't say them. I think that's a run-on.
What was your first job in New York?
Tina Fey's second assistant. She is not high-maintenance enough to need two, so I mostly just stared at her trying to absorb her genius. (It didn't work.)
What's the last thing you saw on Broadway?
Of Mice and Men? Or Bullets Over Broadway? I can't remember — I saw a bunch before Peter Pan took over my life. But I'm seeing Cabaret tomorrow night. And Beautiful on Friday night. And then The Elephant Man, Constellations, and Verité.
Do you give money to panhandlers?
I don't. I don't really know why I don't. Probably because my wallet is so buried and zipped away in my purse for fear of pickpockets (based on the city's reputation many, many years ago). But if I'm waiting for a train and hear good music, I will often give them money.
What's your drink?
Cranberry and seltzer with lime.
How often do you prepare your own meals?
Never.
What's your favorite medication?
I usually skip the medicine and go straight to a spoonful of sugar.
What is the best thing in or about your apartment?
A candy machine display that actually requires quarters. Yet to see a big profit, but it's a long game.
What's the craziest thing you've ever seen on the subway?
How could I possibly pick one? I had a long conversation on the L with a woman strung-out on meth, about meth. I must say, she was pretty convincing. I still have a memo in my phone about our interaction.
When was the last time you stayed out past 3 a.m.?
Filming aside, years ago. I would say 2010 or 2011.
Which do you prefer, the old Times Square or the new Times Square?
I didn't really get to know the old Times Square, but I'm sold on it based on the romantic photographs and the lack of blinding LEDs.
What do you think of Mayor de Blasio?
He is currently serving as the 109th Mayor of NYC.
What do you hate most about living in New York?
Smells. I have a really keen sense of smell, so summers are rough.
If you could banish one person from New York forever, who would it be?
Anybody who walks slowly with no spatial awareness. Go. Home.
When's the last time you drove a car?
Most weekends.
Finish this sentence: The NYPD _____.
… does a job I couldn't do.
Times, Post, or Daily News?
All of the above. Balanced media diet.
Where do you go to be alone?
Home.
What makes someone a New Yorker?
When they can keep their balance on a subway train without holding onto anything. Hygienic and seasoned.