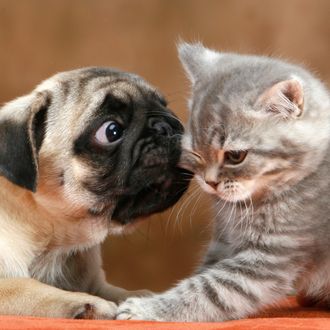 These adorable pets could one day sit next to you on the train.
Photo: Steimer, C./Corbis
Congress may be struggling to reach a compromise on the Department of Homeland Security budget — which means they are once again courting a shutdown and the consternation of their constituents — but they are coming together to support something far more fun and furry. 
Trains, except with puppies! 
Representative Jeff Denham of California, who runs the House subcommittee on rail regulations, first introduced the Pets on Trains Act in 2013. He's trying again in 2015, nearly a year after around 140 pets took advantage of an Amtrak pilot program welcoming them aboard (current Amtrak policy only allows service dogs to ride the trains). 
More important, he started a hashtag too. The bill currently has 24 sponsors, and at least one sponsor-in-spirit. Former Staten Island representative Michael Grimm was a big fan of the 2013 iteration of the bill, as was his Yorkie, Sebastian. Grimm was not the first New Yorker to want to bring his pet Sebastian on the train.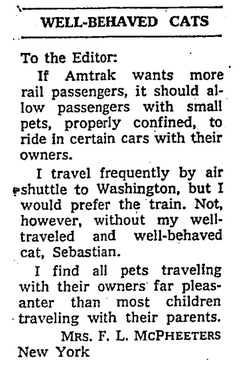 Amtrak allowed pets to ride trains prior to 1976. When the policy ended, it appeared that "the type of people who send letters to the New York Times" were the demographic most affected. 
It is unclear whether a change in policy would bring America one step closer to Snakes on a Train, or whether Vice-President Joe Biden plans to open a cat café car in 2017.