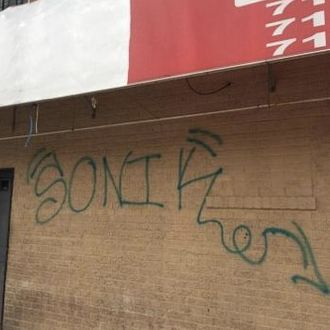 After getting into a drunken fight with his girlfriend, Mohamed Rasul did what any nice, mature 24-year-old dude would do: He went home, drank an enormous bottle of water, slept it off, called the woman to apologize immediately after he woke up, and then planned a nice dinner for the two of them. Just kidding! He covered her neighborhood in spray paint.
Rasul wrote his graffiti tag, "Sonik," 20 times around Richmond Hill, Queens, where his girlfriend lives. "He wanted his name in her face," an NYPD source told the New York Daily News. "He wanted her to see his name and never be forgotten." Unfortunately for Rasul, the police also could not forget:
Rasul was arrested and charged with 18 counts of making graffiti and criminal mischief. He's being held on $2,700 bail. After confessing to the street-art spree, he expressed remorse. "I'm sorry for what I've done," he said. "I was really drunk when I did that and I'm sorry." Disappointingly, there doesn't seem to be any information on how the girlfriend reacted to all of this.