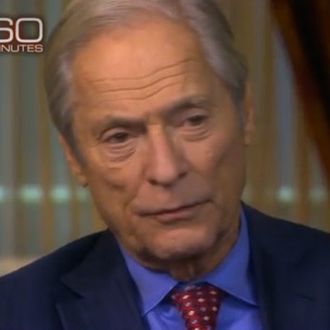 Days after the sudden passing of Bob Simon and David Carr, on Sunday night the institutions they worked for paid tribute to the journalists by releasing their final work. "We begin tonight with a story by Bob Simon, our colleague and friend, whom we lost this past Wednesday in a tragic car accident," Scott Pelley said on Sunday night's 60 Minutes. Simon finished his report "Z Mapp," on the development of a possible new treatment for Ebola, on the day he died, and the story was produced by his daughter, Tanya.
At the end of the broadcast, Steve Kroft said next week's edition of 60 Minutes will be devoted to remembering Simon and his 47 years at CBS News. "We lost Bob Simon this past Wednesday night," Kroft said. "All of us lost him – his family, his colleagues here at 60 Minutes, and all of you who have watched this broadcast over the years. We lost his curiousity, his unparalleled writing ability, his calm bravery under fire. And we lost his sense of justice and his sense of the absurd — both of which he brought to so much of his reporting."
It seems David Carr did not have a final column in the works, so instead the New York Times turned the syllabus from his Boston University course Press Play, which focused on creating and distributing content "in the present future we are living through," into the final Media Equation column published under Carr's byline. While the syllabus, which was published on Medium, was not written as a column, the paper said it's "perhaps David's most succinct prescription for how to thrive in the digital age. It is also David in his purest form — at once blunt, funny, haughty, humble, demanding, endearing and unique."
Carr gave students an eclectic reading list, devoted one class to "how to quit sounding like everyone else and begin sounding like … yourself," and encouraged teamwork. "While writing, shooting, and editing are often solitary activities, great work emerges in the spaces between people," he wrote. "Evaluations will be based not just on your efforts, but on your ability to bring excellence out of the people around you."
BU students say he was devoted to doing the same for them. "From asking me about my personal experiences and things that had happened in my life, he would give me advice specifically geared to me," said Prim Chuwiruch, 24, a graduate student who took Press Play. "He would say, 'These are things that you have that no one else does, and you should channel that.'"
Under the heading "not need to know, but nice to know," Carr offered a characteristically insightful and amusing biography in place of information about his education and journalism accolades.
Your professor is a terrible singer and a decent dancer. He is a movie crier but stone-faced in real life. He never laughs even when he is actually amused. He hates suck-ups, people who treat waitresses and cab drivers poorly and anybody who thinks diversity is just an academic conceit. He is a big sucker for the hard worker and is rarely dazzled by brilliance. He has little patience for people who pretend to ask questions when all they really want to do is make a speech.

He has a lot of ideas about a lot of things, some of which are good. We will figure out which is which together. He likes being challenged. He is an idiosyncratic speaker, often beginning in the middle of a story, and is used to being told that people have no idea what he is talking about. It's fine to be one of those people. In Press Play, he will strive to be a lucid, linear communicator.

Your professor is fair, fundamentally friendly, a little odd, but not very mysterious. If you want to know where you stand, just ask.