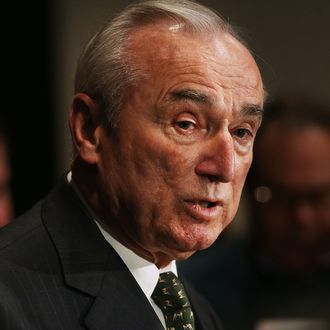 NYPD Commissioner Bill Bratton
Photo: Spencer Platt/Getty Images
On Tuesday, New York Police Commissioner Bill Bratton became the second high-profile figure in law enforcement to recently find fault with the field when it comes to matters of race.
"Many of the worst parts of black history would have been impossible without police, too," Bratton said during a Black History Month event at a church in Queens. "Slavery, our country's original sin, sat on a foundation codified by laws enforced by police, by slave-catchers. "
He later said, "In our city, there are intractable racial disparities in who commits and who is victimized by crime."
The remarks were the latest official response to widespread public anger and desire for change left behind after the death of Eric Garner at the hand of a police officer in Staten Island, and the later murder of two New York police officers.
Two weeks ago, FBI Director James Comey similarly acknowledged that law enforcement is not perfect in a speech he gave at Georgetown University.
"First, all of us in law enforcement must be honest enough to acknowledge that much of our history is not pretty," Comey said. "At many points in American history, law enforcement enforced the status quo, a status quo that was often brutally unfair to disfavored groups." He later quoted the Avenue Q song, "Everyone's a Little Bit Racist."
After listing the problems he thought law enforcement officers across the country need to acknowledge, he relayed his credentials, "his affection for cops," his "law enforcement family." That family, in a broader context, strongly criticized Mayor Bill de Blasio and President Obama's responses to the deaths in New York City, Ferguson, Missouri, and Cleveland, Ohio, this past year.
Whether these new messengers will have more luck delivering the message of reconciliation remains to be seen.