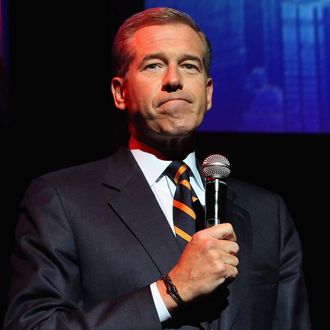 Brian Williams in 2014.
Photo: Monica Schipper/Getty Images
On Sunday morning, Politico Playbook offered a peek at Brian Williams's plan for bouncing back from the scandal over his self-aggrandizing fibs: After suspending himself from Nightly News for "several days," the anchor would keep a previously scheduled Thursday appearance on The Late Show with David Letterman (which happens to be where he told one of the most damaging versions of his fake brush with danger while riding in a helicopter during the Iraq War). "Letterman can do a serious interview, and this would be a high-profile, controlled way for Williams to clear the air," Playbook reported. Now, in another bad sign for Williams, it appears the Letterman appearance has been canceled.
According to Politico, the Letterman interview was called off because the network is "unsure what the situation will be" by the end of the week, and Williams "didn't feel he should keep a commitment to that appearance" when his future is still uncertain. Did Williams abandon his comeback plan because he found out it's unlikely he'll still be at NBC by Thursday, or because he simply has too much integrity to keep Letterman dangling all week? We'll have to stay tuned to find out.