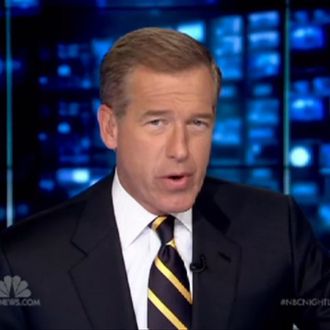 Following a very rough week, Brian Williams is taking a little break. On Saturday afternoon, Williams emailed the staff of NBC News to say that Lester Holt will anchor Nightly News for "several days" to "allow us to adequately deal with this issue." The "issue," of course, is his admission that he repeatedly told an untrue story about his helicopter getting hit by a rocket-propelled grenade in Iraq. 
Here's the full memo: 
In the midst of a career spent covering and consuming news, it has become painfully apparent to me that I am presently too much a part of the news, due to my actions.

As Managing Editor of NBC Nightly News, I have decided to take myself off of my daily broadcast for the next several days, and Lester Holt has kindly agreed to sit in for me to allow us to adequately deal with this issue. Upon my return, I will continue my career-long effort to be worthy of the trust of those who place their trust in us.
Williams's supposedly self-imposed time-out comes a couple of days after NBC assembled a "truth squad" to investigate his false claim about Iraq, as well as some possible exaggerations (or "conflations," or lies) in his reporting on Hurricane Katrina. On the bright side, not having to prepare for a Monday broadcast probably means that he'll have time to watch Girls on Sunday night.