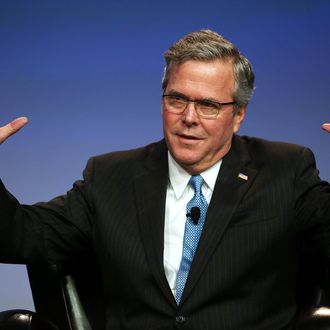 Jeb Bush.
Photo: Justin Sullivan/Getty Images
For a guy who likes to brag that he was "digital before digital was cool," Jeb Bush is having a lot of technology-related problems this week. The release of his full email archive from his time as governor sparked complaints that he didn't redact people's personal information, and tonight he accepted the resignation of his newly elected chief technology officer after discovering racial remarks he made on a old blog — though the Bush team was initially willing to keep him on when it appeared he'd only made derogatory comments about women and homosexuals.
After it was reported on Monday that Ethan Czahor, the co-founder of Hipster.com, had been hired as CTO of Bush's political action committee, Right to Rise, BuzzFeed noted that about 45 old tweets had been deleted from his account. These included comments such as:
new study confirms old belief: college female art majors are sluts, science majors are also sluts but uglier

most people don't know that "halloween" is German for "night that girls with low self-esteem dress like sluts"

when i burp in the gym i feel like it's my way of saying, "sorry guys, but i'm not gay"

the golds gym in San Francisco has a wide selection of free weights, machines, and men who undress you with there eyes while you work out

i know lindsey lohan is supposed to die soon, but i'd sure like to sleep with her before that happens
"Governor Bush believes the comments were inappropriate," a Bush spokesperson responded. "They have been deleted at our request. Ethan is a great talent in the tech world and we are very excited to have him on board the Right to Rise PAC." Czahor commented:
Then on Tuesday, the Huffington Post unearthed remarks Czahor made in January 2008 while hosting the radio program "The Ethan Show" at East Stroudsburg University in Pennsylvania. In a post praising Martin Luther King Jr.'s "I Have a Dream" speech, Czahor wrote:
First of all, Martin Luther King, Jr. was a well-dressed, extremely well-spoken man; he didn't have his pants sagged to his ankles, and he wasn't delivering his speech in "jibberish" or "slang" (ie. he wasn't speaking like a rapper). He understood that looking respectable and speaking clearly and concisely isn't a trait of white men — it's a trait of intelligent men.

He also understood that, while slavery was a terrible practice and certainly a blemish on America's resumé, America is still the greatest country in the world. He doesn't dwell on the negative past; instead, he urges all (not just black) Americans to look forward. In other words, he doesn't drone on about every little problem a black person has faced in their life; and then suggested solutions such as: blacks need more money (ie. welfare programs) or more racial-based preferences (ie. quotas) in the workplace.
He also argued against affirmative action and said "black parents need to get their sh@# together, as the majority of newborn black babies belong to single-parent households. (Don't listen to me — listen to Bill Cosby.)"
On Tuesday Right to Rise PAC released a statement saying it had accepted Czahor's resignation. "While Ethan has apologized for regrettable and insensitive comments, they do not reflect the views of Governor Bush or his organization and it is appropriate for him to step aside," the group said. "We wish him the best."
Czahor weighed in, too, tweeting that he hopes the incident won't keep people who've written offensive things on the internet from following their dreams: