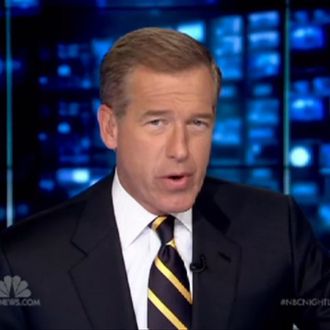 Saturday Night Live is an NBC institution; so is now-suspended NBC News anchor Brian Williams. So it was a little awkward last night when Jim Carrey and Jerry Seinfeld separately used on-camera time during SNL's 40th-anniversary celebration to make jokes about Williams's current lying scandal.
During his red-carpet appearance before the special started, Jim Carrey made Today show anchors Matt Lauer and Savannah Guthrie look like they wanted to die when he joked, "Where are you hiding Brian Williams? Where is he? I just want to say something in his defense. If the helicopter in front of me gets hit, I'm taking the story."
Lauer immediately tried to toss the show over to Carson Daly, who was interviewing celebrities in a different location. Guthrie looked absolutely horrified, while Tina Fey tried her best not to laugh. "Oh, look at the time," Lauer joked.
Then, later in the show, Seinfeld made the crowd self-consciously crack up when he said Brian Williams told him he was one of the original cast members of SNL.
"You know, there are so many things about Saturday Night Live that people don't know," Seinfeld said. "Like, for example, I just found out that one of the original cast members in 1975 was Brian Williams. I don't know if that's true, but I never heard that. It doesn't sound true."
Watch both moments below.