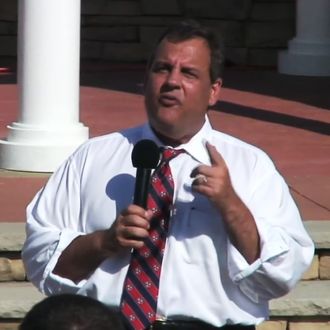 Several months ago, Chris Christie defied the experts at the Centers for Disease Control to quarantine a nurse with Ebola symptoms. Christie explained he just loved the people of his state so much, and hated disease by an equal measure, that no damn scientists were going to make him take even the slightest risk. "I'm not gonna step away for a minute from protecting the people of my state and our region," he blustered.
But asked today about immunizing children against measles and other diseases, Christie struck a more equivocal tone. "It's more important what you think as a parent than what you think as a public official," declared the no-longer-blustering governor. "I also understand that parents need to have some measure of choice in things as well. So that's the balance that the government has to decide."
So for the first time in a public career defined by overweening and often-bullying certainty about everything, Christie has finally found an issue where he sees both sides. And it's an issue where science and public health are utterly unanimous!
Update: Christie's office walks back his statement slightly with a "to be clear" statement:
To be clear: The governor believes vaccines are an important public health protection and with a disease like measles there is no question kids should be vaccinated. At the same time different states require different degrees of vaccination, which is why he was calling for balance in which ones government should mandate.
So basically, Christie was talking out of his ass rather than earnestly courting the Jenny McCarthy vote.