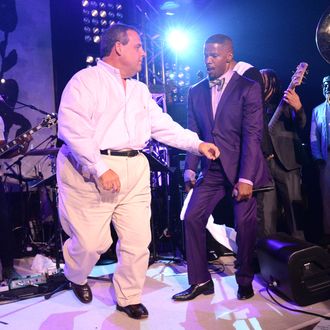 Photo: Kevin Mazur/WireImage
Well, to be clear, Chris Christie isn't rich, but he does have a lot of wealthy friends who like to show him the good life. The New York Times just hit the New Jersey governor while he's down, publishing an exposé on his fondness for luxurious travel and parties paid for by others, while he's still dealing with his vaccination gaffe. Christie, who is currently on a three-day trip to London, contends that while he accepts lavish gifts from famous pals, they don't expect anything in return. (Jordan's King Abdullah is just "a friend" who wanted their families to "spend time together.") Plus, in New Jersey it's legal for governors to have their travel and expenses paid by foreign governments (thanks to an executive order Christie signed in 2010).
Christie's recent jaunts on Dallas Cowboys owner Jerry Jones's private plane prompted a state ethics inquiry, and the Justice Department tightened its rules on travel after a report found that Christie was the U.S. attorney most likely to exceed charges allowed for hotel stays — however, the governor has yet to be charged with anything. Still, the Times story provides some interesting insights into the likely 2016 candidate's lifestyle. Highlights include:
Christie using billionaire Sheldon Adelson's private plane to fly to Israel on a trade mission in 2012 and taking his wife, three of his four children, his mother-in-law, his father, his stepmother, and his former law partner along for the

 

ride.
The governor's entourage partying with Bono at three parties hosted by King Abdullah, including a "Champagne reception in the desert," during the same 2012 trip. The king picked up Christie's $30,000 hotel

 

tab.
Christie informing the Romney campaign that he would only do out-of-state events if he could fly privately, "even during the primary, when the candidate's wife was still flying commercial to save money." He also let it be known that he preferred the Cessna Citation X, which features "exotic wood interiors and a Rolls-Royce

 

engine."
Letting New Jersey taxpayers pick up the $8,146 tab for Christie, his wife, and two aides to travel to the 2013 Super Bowl and stay in New Orleans for three

 

days.
Christie paying a car service $236 for a four-mile trip from the airport in Boston when he was a

U.S.

 

attorney.
Stay tuned to learn more about these incidents, and the other questionable behavior that reportedly led Mitt Romney to eliminate Christie from his short list for VP.