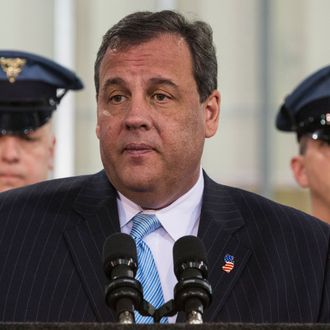 Chris Christie.
Photo: Andrew Burton/2014 Getty Images
After sparking a nationwide vaccine controversy, taking flak for his lavish tastes, potentially facing a new federal investigation, and losing many top donors, could anything else go wrong for Chris Christie this month? How about a court ruling against a move he's frequently touted as a bipartisan achievement, delivered just one day before he unveils his annual budget proposal? A judge ruled on Monday that the New Jersey governor broke the law by failing to pay into the state's pension system for public employees last year, and ordered him to work with state lawmakers to come up with $1.57 billion by June 30.
In 2011, Christie drew national attention for reaching a compromise with the Democratic Legislature to fix the state's pension system. Public employees would significantly increase the amount of money they contribute toward their pensions, and in return the state would gradually increase what it pays into the system over seven years. However, Christie cut the payments in 2014 and 2015 because he said the state could not afford them. The unions sued, and now Superior Court judge Mary Jacobson has ruled that the state must pay up. "In short, the court cannot allow the state to 'simply walk away from its financial obligations,' especially when those obligations were the state's own creation," she said.
The Christie administration is expected to appeal the ruling, but if that doesn't work it's unclear where they'll find the money. "The impact on programs at the end of the year would be devastating," said State Assembly majority leader Lou Greenwald, according to NJ.com.
On the plus side, maybe Tuesday's budget address will actually live up to its inexplicably Michael Bay–esque trailer. [h/t @ZekeJMiller]