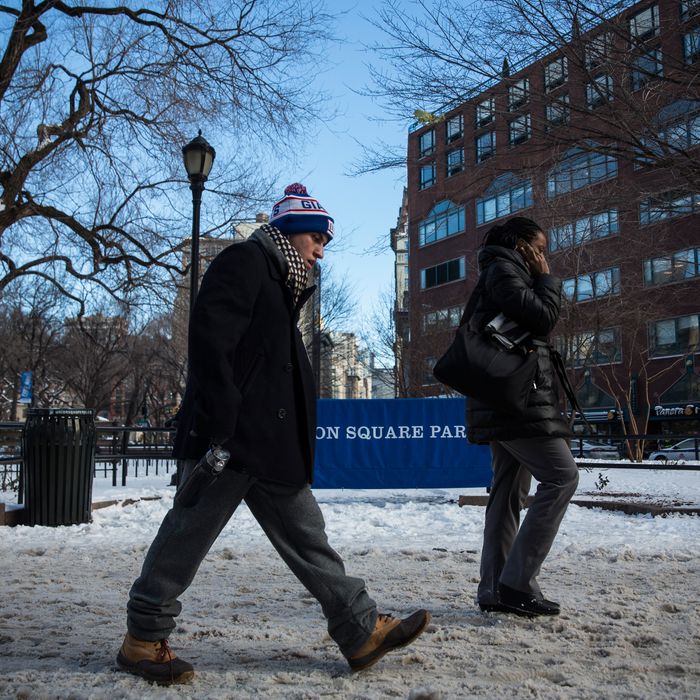 As everyone who didn't manage to sneak out of town early for the long weekend has noticed, it's very cold in New York City. Despite the deceptively bright sun, it was nine degrees this morning and today's high is a whopping 20 degrees. Thanks to the wind chill, it probably won't feel warmer than zero degrees at any point today. Enjoy it, because forecasts suggest that things are about to get worse. 
Tomorrow is expected to be slightly less freezing, but the high of 38 degrees will likely be accompanied by one to three inches of snow in the evening. (Meanwhile, Boston should plan for six inches, while parts of New England could see as much as a foot.) The National Weather Service has issued a "high wind watch" for late Saturday through Sunday afternoon. For the uninitiated, the NWS explains that, "A HIGH WIND WATCH MEANS THERE IS THE POTENTIAL FOR A HAZARDOUS HIGH WIND EVENT. SUSTAINED WINDS OF AT LEAST 40 MPH … OR GUSTS OF 58 MPH OR STRONGER MAY OCCUR." 
The temperature will drop to the teens on Sunday before hitting the low single digits on Monday morning, with wind chills of negative-15 to negative-30. It's set to be "one of the coldest air masses we have seen in the Northeast in 20 years," according to the Weather Channel's Mike Palmer. So, enjoy your Presidents' Day, everyone! Or at least be grateful that, unlike Washington or Lincoln, you probably have a puffy coat.