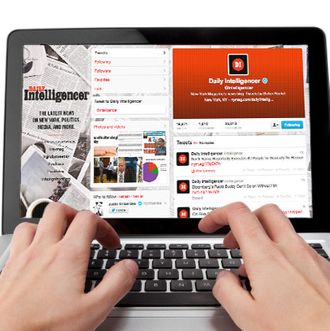 Welcome back to the New York Magazine Competition. On alternate Mondays, we lay out a challenge and offer a sample responses. Enter in the comments section, or on Twitter with the hashtag we've provided, and the editors will select a winner. Criteria are highly subjective, but heavily retweeted and favorited posts will have an advantage. The prize is a year's subscription to New York in print or a two-year subscription to the iPad edition (winner's choice). Full rules are here.
COMPETITION NO. 41: HISTORICAL PRODUCT ENDORSERS. Please offer a marketing slogan with an unexpected celebrity attached. For example:
Dorothy Parker for Gillette: "When only the sharpest edge will do."

"This is Keith Richards for Volvo. Because safety is my first priority."

Jesus of Nazareth: "Hi — I'm the Son of God, but I'm also a carpenter. At the Home Depot … " 
Enter on Twitter with the hashtag #historicalproductendorsers, or in the comments thread below, by February 21.
RESULTS OF COMPETITION NO. 40, "UNEXPECTED GOP CANDIDATES," in which you were asked to suggest the latest entrants into the fray. 
HONORABLE MENTION TO:
Richard Nixon: "Except for Watergate, I'm not looking so bad anymore, am I?"
—Lexxman
Brian Williams: "You can believe in me!  And find out the truth long after I'm out of office."
—rmtmiller
David Copperfield: "I will make the national debt disappear!"
—BENLINUS99 
Monica Lewinsky: "Down with Hillary!"
—alanmarkgreenspan
Dan Quayle: He's learned how to spell "disenfranchisement."
—KathleenS
David and Charles Koch: "Skip the middleman."
—BobKopac
Mark Zuckerberg for president, Sergei Brin for veep: "Because we already know how you are going to vote."
—onvacation
Michelle Obama: "Not another Clinton or Bush."
—@DannyGroner  
Clint Eastwood: "I'll keep all those damned kids off the White House lawn."
—jhartarl
Pope Francis: "If you make fun of Christianity, I'll punch you in the face!"
—@yonimweiss 
AND THE WINNER IS:
Chelsea Clinton: Let's skip ahead so we can get this over with.
—kthxbye