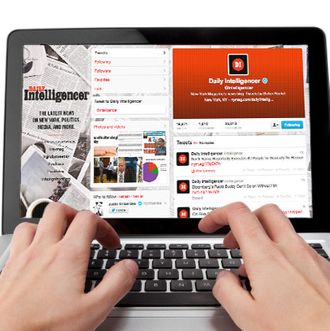 Welcome back to the New York Magazine Competition. On alternate Mondays, we lay out a challenge and offer a sample responses. Enter in the comments section, or on Twitter with the hashtag we've provided, and the editors will select a winner. Criteria are highly subjective, but heavily retweeted and favorited posts will have an advantage. The prize is a year's subscription to New York in print or a two-year subscription to the iPad edition (winner's choice). Full rules are here.
COMPETITION NO. 42: MIDDLE-MANAGEMENT MOVIES. Please suggest a film tailor-made for the everyday businessperson's life. For example:
Sweet Smell of Successories

The King and I.T.

Dude, Where's My Midsize Rental Car?

Oz the Great and PowerPoint
Enter on Twitter with the hashtag #middlemanagementmovies, or in the comments thread below, by March 3.
RESULTS OF COMPETITION NO. 41: HISTORICAL PRODUCT ENDORSERS, in which you were asked to create a marketing slogan with an unexpected celebrity attached. 
HONORABLE MENTION TO:
Genghis Khan for the Lincoln MKZ:  "Sometimes you gotta go back and finish off the survivors of your recent raids.  The Lincoln MKZ gets me there faster and in more style than any damn horse."
—rmtmiller
"Casanova here for Bounty… although I am the quicker picker-upper!"
—BENLINUS99
Carl Sagan for the Federal Reserve: "The team to trust about billions and billions."
—ggreg
Romeo and Juliet for Tempur-Pedic:  Enjoy every night as if it were your first and last night together."
—whosays
Joan of Arc for Kingsford Match Light Charcoal -" Lights up immediately, burns clean and strong"
—Periclescrystal
Al Capone for FTD: "This Valentine's Day, say it with flowers."
—queasyrider
Thomas the Apostle: "I can't believe it's not butter!"
—gianna13
Hedda Hopper for Ajax. "It's stronger than dirt."
—KathleenS
Christopher Columbus: "If I left home without my American Express card, I'd never have gotten there, or known what to name it."
—rgqueen
AND THE WINNER IS:
Albert Einstein for FedEx:  "When it absolutely, positively has to get there yesterday."
—NichVT