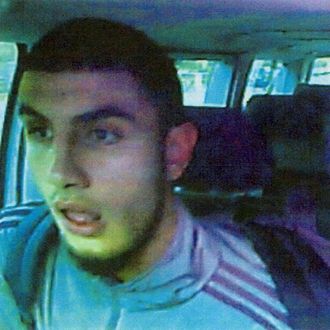 Photo of Omar Abdel Hamid El-Hussein from a police handout.
Photo: Polfoto
While the head of Denmark's intelligence service, PET, suggested that the man behind this weekend's fatal shootings in Copenhagen might have been "inspired" by ISIS or the attacks in Paris last month, authorities say he wasn't directly working with a terror group. "We have no indication at this stage that he was part of a cell," said Danish prime minister Helle Thorning-Schmidt. "But we will of course in the coming time evaluate our fight against radicalization. We are already doing a lot."
Two people were killed and five were wounded when the gunman opened fire at a free-speech event and a synagogue in Copenhagen. The shooter, who was killed by police, still hasn't been officially identified, but the Danish media have reported that his name is Omar Abdel Hamid El-Hussein. Authorities said previously that the 22-year-old had a history of violence and gang connections, and two people have been arrested for allegedly helping him with "advice and deeds" following the shooting.
In November 2013, El-Hussein was accused of stabbing a 19-year-old man in the thigh on a Copenhagen subway train. A source told the Associated Press on Monday that he was just released from jail two weeks ago after spending a long time in pre-trial detention. (It's unclear if he had been jailed over the stabbing or another incident.) He also said that last summer the corrections authority notified PET that El-Hussein might have become radicalized, which is standard when an inmate's attitude or behavior "sets off alarm bells." A PET spokeswoman wouldn't comment on the report but said, "We are working on finding out what has happened."