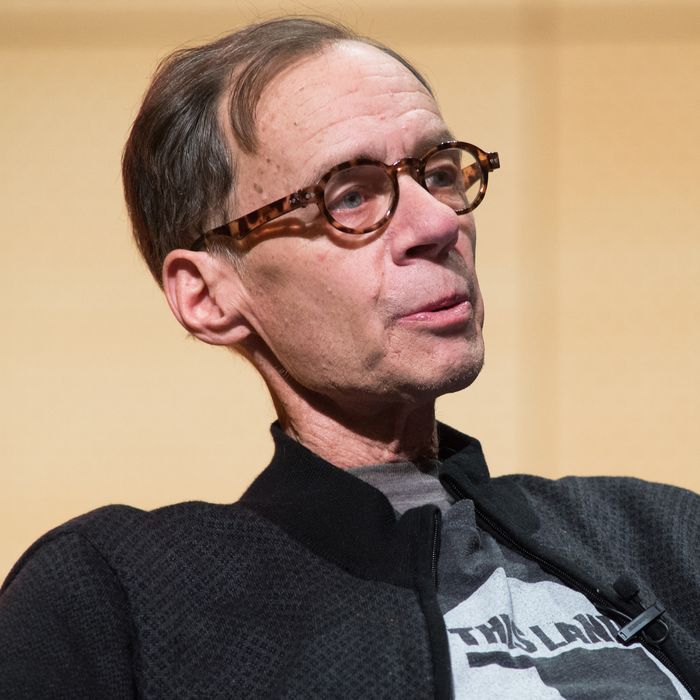 Photo: Mark Sagliocco/Getty Images
In another huge blow to journalism, David Carr, the longtime New York Times media columnist, died on Thursday night after collapsing in the newsroom. He was 58. Two Times employees broke the terrible news on Twitter, and the paper reported that he was found shortly before 9 p.m. and rushed to Roosevelt Hospital, where he was pronounced dead. In an email to staffers, Times executive editor Dean Baquet described Carr as "the finest media reporter of his generation, a remarkable and funny man who was one of the leaders of our newsroom."
"David Carr was one of the most gifted journalists who has ever worked at The New York Times," added publisher Arthur Sulzberger, Jr. "He combined formidable talent as a reporter with acute judgement to become an indispensable guide to modern media. But his friends at The Times and beyond will remember him as a unique human being — full of life and energy, funny, loyal and lovable. An irreplaceable talent, he will be missed by everyone who works for The Times and everyone who reads it."
Carr wrote about the media for 25 years and is best known for his Monday Times column, the Media Equation, where he chronicled the industry's many upheavals over the last decade. Before joining the Times in 2002, Carr was a contributing writer for The Atlantic Monthly and New York. He was also the former editor of Washington City Paper and the Twin Cities Reader.
His 2008 book, The Night of the Gun, detailed his experiences with cocaine addiction and recovery. Carr gathered information for the memoir as if he were reporting on himself, and many of the materials he collected are available online, along with an excerpt published in The New York Times Magazine.
Earlier Thursday evening, Carr appeared with filmmaker Laura Poitras and journalist Glenn Greenwald for a conversation about the Oscar-nominated film Citizenfour at the New School.
Carr was praised on Twitter by his friends, colleagues, young reporters he mentored, and those who never met him but were influenced by his writing, his blunt humor, and insights on journalism and life.
Anthony De Rosa, the editor-in-chief of Circa, wrote a post on Medium in rememberance of Carr, writing "I can't imagine a world without David in it and I really don't want to." Bloomberg politics reporter Dave Weigel also chimed in:
You know that Janet Malcolm line that people like to quote — "every journalist who is not too stupid or full of himself to notice what is going on knows that what he does is morally indefensible"? David Carr proved that wrong, on deadline, all the time.
Check out the videos below for a look back at why Carr was so respected and beloved.
In this clip from the documentary Page One, in which Carr is featured prominently, he goes after Vice CEO Shane Smith after he disparages the New York Times' reporting.
He's far gentler, but still acerbic, in the 2012 Times video "Criticizing Critics."
Carr became Boston University's first Andrew R. Lack professor last fall, and in a March 2014 talk at the college he shared the "dirty secret" of journalism: It's "always been horrible to get in" — just as it should be (h/t Andrew Katz):
If you're gonna get a job that's a little bit of a caper, that isn't really a job, that under ideal circumstances you get to at least leave the building and leave your desktop, go out, find people more interesting than you, learn about something, come back and tell other people about it—that should be hard to get into. That should be hard to do. No wonder everybody's lined up, trying to get into it. It beats working.