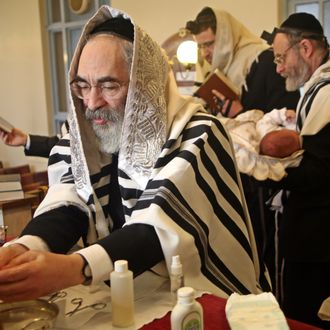 A mohel performas the metzitzah b'peh.
Photo: ? Andrew Aitchison
When Mayor de Blasio undoes a controversial Bloomberg-era policy, he usually wants everyone to know about it, but it's easy to see why his latest policy shift was announced after hours on Tuesday. The mayor is doing away with the consent forms ultra-Orthodox Jewish parents must sign before the metzitzah b'peh ritual, in which a mohel sucks the blood from a baby's circumcised penis. The rule was introduced after 11 babies contracted herpes and two died between 2000 and 2012, but the consent forms were rarely used and the number of reported infections actually increased last year.
In exchange for dropping the consent requirement, Orthodox leaders have agreed that if a baby contracts herpes, they will cooperate with health officials in identifying the mohel who performed the ceremony. If DNA testing shows the mohel has the same herpes strain as the baby, he'll be banned from performing the practice for life.
The move was praised by ultra-Orthodox leaders, including Rabbi David Zweibel, whose group had sued the city over the consent requirement. "It is to Mayor de Blasio's eternal credit that he recognized how profoundly offensive the regulation was to our community," he said.