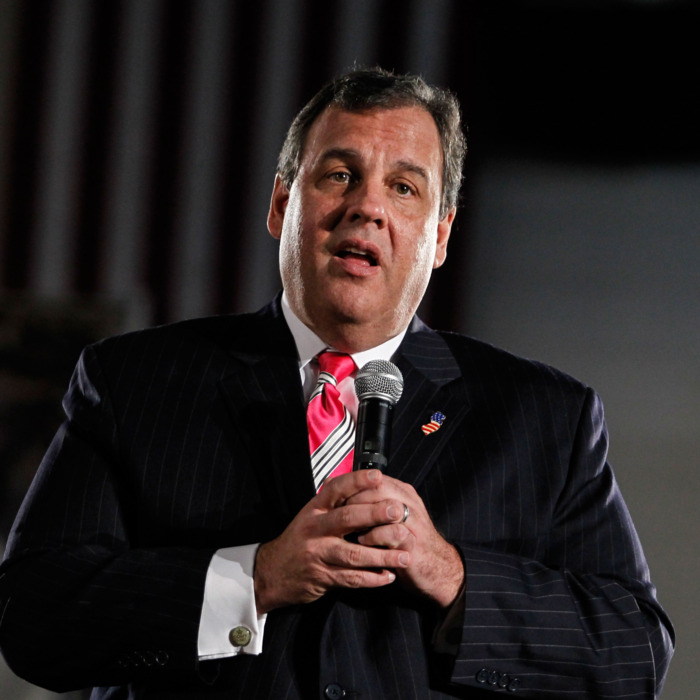 Christie speaks at a town hall meeting on March 25, 2014.
Photo: Kena Betancur/Getty Images
As it became clear in the run-up to the 2012 election that the choices for a GOP nominee would range from a robotic, flip-flopping Mormon to a pizza-company CEO with a fun jingle about taxes, many in the Republican Party were clamoring for New Jersey's popular and charismatic governor to enter the race. As New York reported at the time, those close to Chris Christie said he knew 2012 might be his moment, but he ultimately decided to try his luck in 2016. Now it's beginning to look more and more like that was the wrong call. The past few weeks have been rough for Christie, and this week's round of negative reports focuses on his lack of support among top GOP donors.
In the past year, Christie faced various Bridgegate-related investigations, publicly fought with a nurse over Ebola, and sparked a controversy over vaccinations, but according to the New York Times, that's not what's driving donors away. Some former supporters complain that Christie is neglecting them by failing to make time to meet with them, return phone calls, or send thank-you notes. While he's doing a lot of traveling, his speeches tend to focus on his personal story rather than what he'd do as president.
Plus, for once, Christie isn't being aggressive enough: While the governor's approach to 2016 has been more slow and steady, other candidates are snatching up donors and endorsements. Jeb Bush and Scott Walker haven't openly done any fund-raising in New Jersey, but in recent weeks they've both attended private dinners in New York to woo top Republicans in the region. New York Jets owner Woody Johnson, who was once a Christie supporter, was spotted at several Bush fund-raisers in Chicago this week. And the Associated Press reports that of the seven prominent Republican donors from Iowa who flew to New Jersey in 2011 to urge Christie to enter the race, only two still support the governor. "It's a brand-new ballgame," donor Gary Kirke explained. "There's a lot more people in the race, and a lot has happened since then."
Even those without a few thousand dollars to spare on political donations seem less enthusiastic about Christie. A recent Des Moines Register/Bloomberg poll found that in Iowa, 54 percent of likely Republican voters have an unfavorable view of Christie, which means he's more disliked than every potential candidate but Donald Trump.
Christie does have several prominent backers, including Meg Whitman, the CEO of Hewlett-Packard; Eric Cantor, the former House majority leader; and Kenneth Langone, the billionaire co-founder of Home Depot. Langone reports he's had no problem raising money for Christie's new PAC and commented, "Some guys move from Christie to Bush? That's politics."
Mike DuHaime, one of Christie's top advisers, was similarly optimistic. "The fact is, there is not a finite pool of donors as some seem to suggest," he said. "An essential part of Governor Christie's appeal is his ability to bring new people into the political process, whether they be donors or activists. He has proven this ability time and again in the past, winning handily in a blue state. If he decides to run, it is clear he will have the resources to run an aggressive, winning race."
Even if that strategy doesn't work in 2016, one could argue that he didn't miss out on anything by waiting to launch a presidential bid. There's a reason — or, actually, quite a few of them — that he wasn't even asked to be Mitt Romney's running mate in 2012.