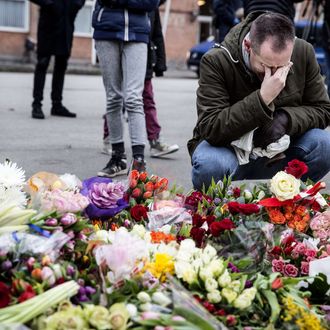 A memorial outside the synagogue.
The man believed to be responsible for an afternoon shooting at a Copenhagen cafe attacked a synagogue on Saturday night. The suspect, said to be 22, still has not been identified, but the Danish police said that they killed him during a shootout. The Associated Press reports that he "was born in Denmark and had a criminal record, including violence and weapons offenses." He was also "known" to intelligence services. 
One person, 55-year-old film director Finn Nørgaard, was killed at the cafe, which had been hosting an event featuring Lars Vilks, whose cartoons of the Muslim prophet Mohammed have made him the target of threats. Three police officers were also injured. The gunman fled in a car, which he soon abandoned. Several hours later, he showed up at Copenhagen's largest synagogue, where he fatally shot 37-year-old Dan Uzan, who was standing guard outside the building, and wounded two more police officers. 
The authorities managed to trace the suspect to an address in the neighborhood of Nørrebro. From the New York Times: 
The shooter was confronted by the police as he returned to an address that they were keeping under surveillance, [police inspector Jorgen Skov] said. The police suspected that the man had been involved in the killings, in part because of information from video surveillance and from a taxi driver who had picked up the suspect. When the suspect returned to his address at 4:50 a.m., the police said, he responded to their shouts with gunfire and was killed.
"We do not know the motive for the alleged perpetrator's actions, but we know that there are forces that want to hurt Denmark. They want to rebuke our freedom of speech," said Prime Minister Helle Thorning-Schmidt, who called the shootings a "cynical act of terror." She added, "This is not a war between Islam and the West." 
This post has been updated throughout.