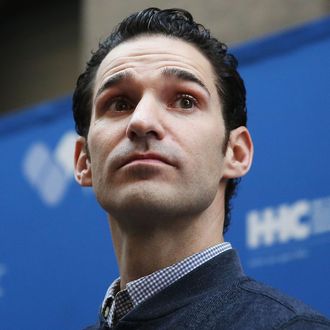 Dr. Craig Spencer, New York's only Ebola patient.
Photo: Spencer Platt/Getty Images
Dr. Craig Spencer, the only Ebola patient treated in New York, wrote an essay in the New England Journal of Medicine revealing that — though he was too busy trying to keep down a single cup of fruit to watch TV at the time — he knows all the jokey headlines, and he knows what people on the midterm campaign trail were saying about him. He is not pleased.
"My activities before I was hospitalized were widely reported and highly criticized," he wrote. "People feared riding the subway or going bowling because of me. The whole country soon knew where I like to walk, eat, and unwind. People excoriated me for going out in the city when I was symptomatic, but I hadn't been symptomatic — just sad. I was labeled a fraud, a hipster, and a hero. The truth is I am none of those things. I'm just someone who answered a call for help and was lucky enough to survive."
He would also like to remind everyone that although Ebola stopped getting media attention in the U.S. after the election, there are still many people in West Africa who have the disease.